Company Profile
Company Name
SHOEI CO.,LTD.
Established on
March 17,1959
Net sales
28,953,513,366 ( as of September 30,2022 )
Paid-up Capital
1,421,929,924Yen
President
Kenichiro Ishida
Number of Employees
716
Head Office
1-31-7 Taito, Taito-ku Tokyo
Factories
Ibaraki Factory:
1793-1,Haga,Inashiki-shi,Ibaraki
Iwate Factory:
27-1,Nooka,Tokuda,Fujisawa-cho,Ichinoseki-shi,Iwate
Showroom
SHOEI Gallery TOKYO:
2-15-2 Sotokanda, Chiyoda-ku Tokyo
SHOEI Gallery OSAKA:
5-11-8,Nishinakajima,Yodogawa-ku,Osaka-shi,Osaka
SHOEI Gallery YOKOHAMA:
27,Yamashita-cho,Naka-ku,,Yokohama-shi,Kanagawa
Consolidated Subsidiaries
SHOEI (EUROPA) GMBH
SHOEI DISTRIBUTION GMBH
SHOEI EUROPE DISTRIBUTION SARL
SHOEI ITALIA S.R.L.
SHOEI ASIA CO.,LTD.
SHOEI SALES JAPAN CO., LTD.
SHOEI(SHANGHAI)CO., LTD.
Business Policies
Based on a business concept of "Quality & Value," we specialize in manufacturing and selling "premium helmets" with high quality and high value added in aspects such as safety, comfort and fashion that meet customers' needs. We continue to offer competitive products through a four-part cycle consisting of: (1) Careful market research; (2) Cutting-edge helmet designs made by our in-house designers; (3) Development which uses our ample experience to incorporate fashion into industrial products and (4) Production which ensures stable quality at an affordable price. To achieve that last step, we adhere to made-in-Japan production while making daily improvements to our just-in-time production processes and using Japanese-made materials with a high degree of functionality.
1) Product Strategy
To achieve an expansion of profits by specializing in high quality, high value added products, intensively investing management resources.
2) Production Strategy
To maintain superiority, strengthening information management to keep high technologies and expertise confidential while adhering to made-in-Japan production.
3) Marketing Strategy
To achieve the leading market share for premium helmets in every country in the world, restructuring sales organizations mainly in growing European and American markets.
SHOEI Group
In Europe, SHOEI DISTRIBUTION GMBH is based in Germany, SHOEI EUROPE DISTRIBUTION SARL is based France, and SHOEI ITALIA S.R.L. is in Italy. These three bases account for roughly 80% of sales in Europe. In Asia, SHOEI ASIA CO., LTD. was established in Thailand. It is responsible for wholesale in that country. We have also set up a subsidiary in China to handle distributor management and marketing, and we are working closely with local distributors to maintain and expand sales and improve customer satisfaction. Meanwhile, SHOEI SALES JAPAN Co., Ltd. operates a gallery (showroom and sales outlet) in Japan.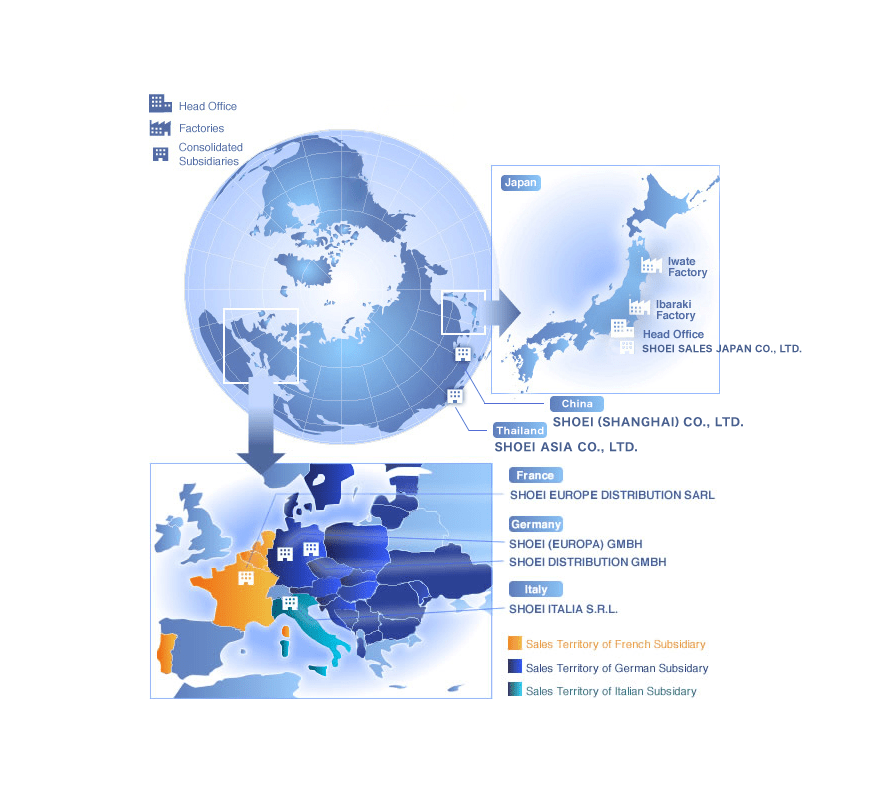 Basic Policy for Profit Distribution and Dividend of This Period and Next Period
We consider profit distribution to shareholders to be high priority for our business activities and settle our principle to distribute earnings corresponding to fiscal year end results. We intend to improve the net assets in order to reinforce our financial and operational fundamentals and also implement fiscal year end profit distribution according to 50% dividend payout ratio. Profit distribution at the end of financial year is only scheduled at present, and interim dividends will not be realized.
As for dividend as of September 2023, it would amount to Yen 66 per share, increasing of Yen 20 compared with previous year before split of common stock, as announced on November 15,2023.
Share Information
| | |
| --- | --- |
| Security Code | 7839 |
| Stock Market | Tokyo Stock Exchange, 1st Section |
| Manager of Shareholders List | Mitsubishi UFJ Trust |
| Share Unit | 100 Shares |
| Number of Shareholders | 4,721 as of September 30,2022 |
| Number of Issued Shares | 26,856,858(Number of Treasury Stocks : 25,971) |