Company Profile
Company Name
SHOEI CO.,LTD.
Established on
March 17,1959
Net sales
17,148,757,530 ( as of September 30,2018 )
Paid-up Capital
1,394,778,424Yen
President
Kenichiro Ishida
Number of Employees
509
Head Office
1-31-7 Taito, Taito-ku Tokyo
Factories
Ibaraki Factory:
1793-1,Haga,Inashiki-shi,Ibaraki
Iwate Factory:
27-1,Nooka,Tokuda,Fujisawa-cho,Ichinoseki-shi,Iwate
Consolidated Subsidiaries
SHOEI (EUROPA) GMBH
SHOEI DISTRIBUTION GMBH
SHOEI EUROPE DISTRIBUTION SARL
SHOEI ITALIA S.R.L.
SHOEI SAFETY HELMET CORPORATION
Business Policies

Based upon a business concept of "Quality & Value", we are specialized in manufacturing and selling "premium helmet" in high quality and high value addition in such aspects as safety, comfort and fashion.
Product Strategy
To achieve expansion of profit specializing in and concentrating on high quality high value addition products.
Production Strategy
To maintain superiority keeping high technologies and know-how confidential.
Marketing Strategy
To achieve top share in every country in the world restructuring sales organizations mainly in growing European and American market.
SHOEI Group
We have 5 subsidiaries in Europe and U.S.A. SHOEI DISTRIBUTION GMBH in Germany, SHOEI EUROPE DISTRIBUTION SARL in France and SHOEI ITALIA S.R.L. in Italy are distributing our products almost 60% of total volume in whole Europe including sales to their neighboring countries. SHOEI (EUROPA) GMBH in Germany and SHOEI SAFETY HELMET CORPORATION in U.S.A. are engaged in control of distributors and sales promotion activities. In collaboration with local distributors, they are performing after-sale-service to improve customer satisfaction.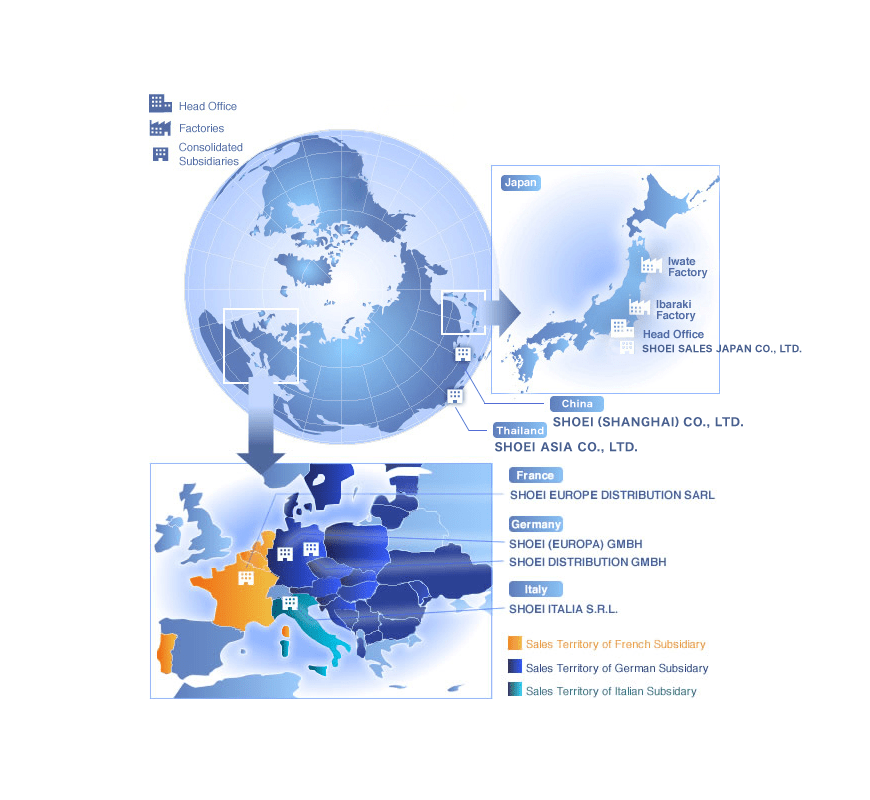 Basic Policy for Profit Distribution and Dividend of This Period and Next Period
We consider profit distribution to shareholders to be high priority for our business activities and settle our principle to distribute earnings corresponding to fiscal year end results. We intend to improve the net assets in order to reinforce our financial and operational fundamentals and also implement fiscal year end profit distribution according to 50% dividend payout ratio. Profit distribution at the end of financial year is only scheduled at present, and interim dividends will not be realized.
Due to the above mentioned basic policy, we decided to pay the ordinary dividend amounting to Yen 93 per share after financial closing at the end of September 2018, increased by Yen 8 comparing to the last financial year.
With regard to the use of retained earnings, we are planning to make an investment in R&D and manufacturing facilities to develop new innovative products for our further business progress from a mid-term point of view.
As for dividend as of September 2019, we intend to maintain 50% of dividend payout ratio with the expected amount of Yen 86 per share, decreasing Yen7 comparison with the previous fiscal year.
Share Information
| | |
| --- | --- |
| Security Code | 7839 |
| Stock Market | Tokyo Stock Exchange, 1st Section |
| Manager of Shareholders List | Mitsubishi UFJ Trust |
| Share Unit | 100 Shares |
| Number of Shareholders | 2,630 as of September 30,2018 |
| Number of Issued Shares | 13,772,400(Number of Treasury Stocks : 782) |