Premium Helmet
What is meant by "premium helmet" is high quality and high value added helmet. High safety and various effective performances and superior design are equipped with SHOEI's premium helmet. SHOEI's premium helmet is favored by many riders of the world and recognized as global brand by many riders of the world because of its high quality. To own SHOEI is a pride and status symbol of riders. This strong brand power is an evidence of high value addition of SHOEI premium helmet.
A shell of SHOEI premium helmet is made of FRP composed of special organic fiber, glass fiber and thermo setting plastic resin. Its production is realized by SHOEI's craftsmanship which is supported by skilled and superior works. In order to maintain its high quality SHOEI is doing all processes from shell molding, painting to assembling and performing strict quality control in-house. Production system of Toyota has been introduced to realize high productivity and maintain quality in top level of the world. Many guests from abroad are always repeating "Wow, it's great."
Premium helmet is a real high end helmet and its market is promised to expand stably in the world.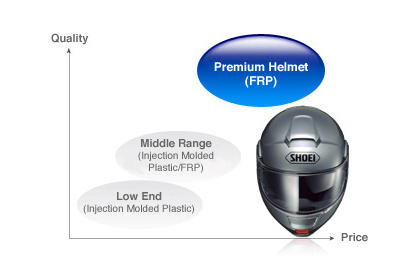 Craftsmanship is reflected in graphic design of helmet also. Colorful expression is realized by superior transcription technology which makes it possible to reproduce detailed lines. Its design gets further intricate and had reached to a range of art by works of young talented designers to be supported by many riders of the world. New creative expression is always pursued in various aspects such as applying special color named polarized pearl color. These graphic expressions are reflected to SHOEI premium helmet by hand work of skilled workers.
SHOEI's premium helmet is produced in-house by skilled work and know-how using top material of Japanese manufacturers.
Top quality product is realized by applying Toyota production system as only one firm in the whole industry, maximizing skills of workers, improving quality always, eliminating waste and placing workers properly.
SHOEI sticks to "made in Japan" just in order to provide customers with top quality products.
Premium Helmet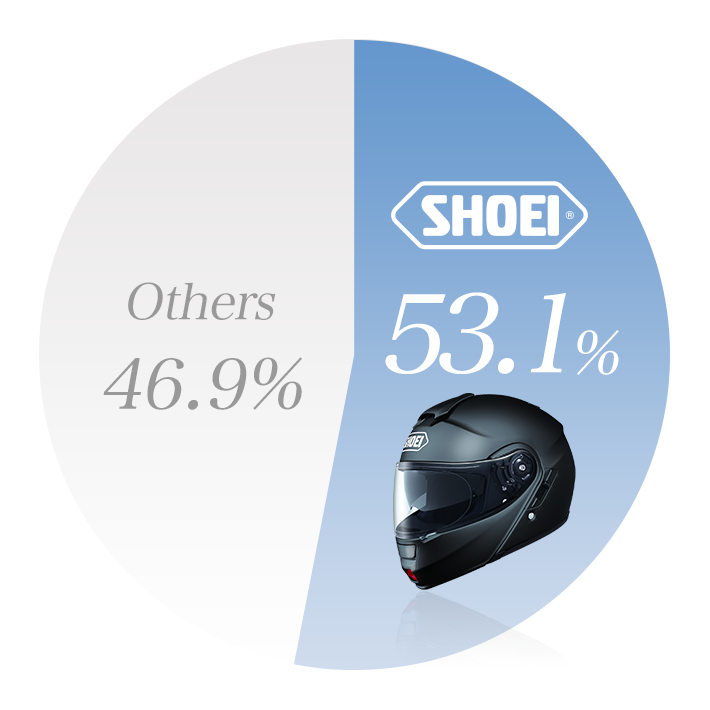 Market of premium helmet in superior design, high quality and safety is in the scale of about Yen 50.8 billion. SHOEI accounts for over 50% in this market. We target to obtain top share in all countries in the world by strengthening sales activities further based upon our superior brand power.
SHOEI's share in the world's premium helmet market is in excess of 50%. About 80% of sales is for overseas markets such as Europe and U.S.A. its brand is recognized worldwide. Enjoying top share in Europe and U.S.A., its brand is known to all riders of the world as a symbol of high quality and safety. Owning SHOEI is a pride and status symbol of riders.
Global brand SHOEI, born in Japan and grown in the world, is loved by many top class professional riders and recognized as top quality helmet by riders of over 50 countries of the world.
Safety Concept
SHOEI has 2 concepts of safety, namely, "Passive Safety" and "Active Safety." While "Passive Safety" is to protect head of rider in an accident, "Active Safety" is to prevent an accident by comfort which makes it possible for rider to concentrate on riding. SHOEI realizes "Safety" from these 2 aspects.
In order to realize "Passive Safety" SHOEI has test equipments in both Ibaraki and Iwate Factories corresponding to various standards of the world. Impact absorption test and other tests are repeated from the stage of development of products to guarantee proper performances. Over 3,000 helmets are exposed to tests and broken every year to support SHOEI's quality.
There are various safety standards such as one requiring high rigidity of shell and the other requiring low initial impact energy. SHOEI has test equipments corresponding to all standards of the world to realize impact absorption performance in the top level of the world.
"Active Safety" is realized by comfort of helmet providing environment for concentration on riding. Having in-house wind tunnel experiment facility, SHOEI measures ventilation performance and aerodynamics to realize comfort from development stage. In addition to data obtained from the experiments, various know-how accumulated from feedback from contract riders are used every day for development of products.