IMPORTANT LEGAL NOTICES - How to Identify Regular Imported Products
IMPORTANT LEGAL NOTICES
SHOEI manufactures its helmets to meet the specific legal requirements of the country in which they will be sold and used. Authorized SHOEI® dealers are prohibited from selling SHOEI® helmets outside of their territory to keep buyers from purchasing SHOEI® helmets from another country because such helmets may not meet the legal requirements or carry the required certifications in the buyer's country. For example, riders in Europe generally must wear helmets that carry ECE certifications, not U.S. DOT certifications, and vice versa. It is the rider's obligation - not SHOEI's - to make sure that the SHOEI® helmet he or she is wearing is certified as "street legal" for the country or jurisdiction in which he or she is using such helmet.
SHOEI HEREBY DISCLAIMS AND SHALL NOT BE LIABLE FOR ANY CLAIMS, COSTS, LIABILITY OR CONSEQUENCES ARISING FROM THE USE OF A SHOEI® HELMET IN A JURISDICTION OTHER THAN THE SPECIFIC JURISDICTION FOR WHICH IT WAS MANUFACTURED AND CERTIFIED. YOUR SHOEI® HELMET IS ONLY WARRANTED TO THE FIRST CONSUMER PURCHASER AND ONLY IF THE HELMET IS PURCHASED AND USED IN THE JURISDICTION FOR WHICH IT WAS MANUFACTURED; USING YOUR SHOEI® HELMET IN A JURISDICTION FOR WHICH IT IS NOT CERTIFIED VOIDS THE LIMITED WARRANTY.
How to Identify the Products Imported through SHOEI Authorized Distributors of Your Country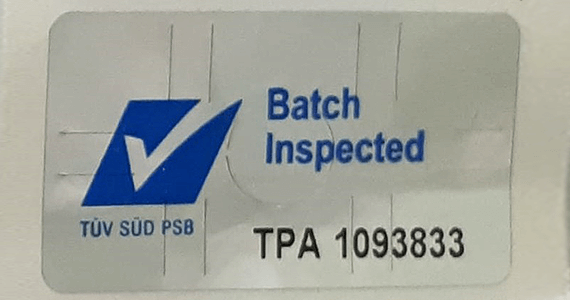 TUV label
Authorized Distributor: Chong Aik International Pte Ltd.
Standard: SS9:2014
How to Identify: TUV label is attached onto a helmet's shell.