An advanced modular helmet that takes blending what riders have demanded into the next level
Modular helmets are made to deliver both the sense of security that a full-face helmet offers when riding with the convenience an open-face one provides when stopped. NEOTEC, the modular helmet equipped with the inner sun shield, has won the favor of riders around the world ever since its debut. Now, we announced the birth of NEOTEC II, a modular helmet that presents new advances in the quest for comfort, functionality, and safety.
A new modular helmet into which SHOEI has poured all of the latest technology and know-how it has in every respect. One that takes all the capabilities riders want and bumps them up another notch. That's NEOTEC II.
ALL COLLECTIONS
About Size
Please measure your circumference in your longest portions and select your size roughly.
However, different from hat, a size of helmet cannot be identified by circumference alone. And also, you may feel different when you wear several models of the same manufacturer in the same size.
Please wear your required model in your dealer before purchase.
Philippines(All products excl. X-Fifteen)
Malaysia(All products)
Thailand(All products)
Other Areas(X-Fourteen)
Sizing Guidelines
Helmet Size
XXS
XS
S
M
L
XL
XXL
CM
-
53~54cm
55~56cm
57~58cm
59~60cm
61~62cm
63~64cm
Philippines(X-Fifteen)
Other Areas(All products excl. X-Fourteen)
Sizing Guidelines
Helmet Size
XXS
XS
S
M
L
XL
XXL
CM
51cm
53cm
55cm
57cm
59cm
61cm
63cm
Main Characteristics
Design
A design symbolizing the spirit of innovation and evolution that its curved lines weave together
NEOTEC II—a modular helmet that brings the latest functions and technologies together in one piece of headgear. The beauty of the form created by the smooth curved lines makes you sense the spirit of innovation in the design, while the aerodeflector on the bottom edge of the face cover and the base parts for attaching the specially designed communications system serve to tighten up the external appearance and produce a refined design.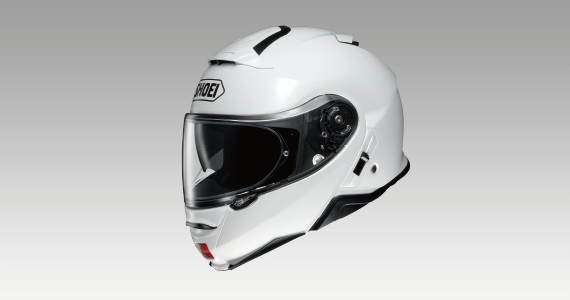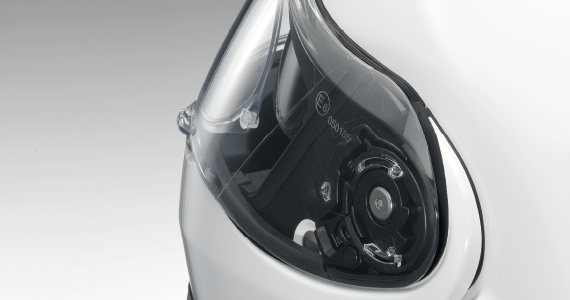 As for the areas where the shell, face cover, and shield overlap, the leading edge of the face cover has been moved farther back than on previous models.
That combined with the curved shape in shield's upper edge toward the shell side leaves one with the impression of a helmet that is sharp and compact.
Face Cover
Face cover equipped with a lock mechanism that delivers both smooth operability and reliable holding power
The face cover is what gives a modular helmet its identity. Its convenience is improved by the degree to which various elements of it have been perfected, such as the locking mechanism and the way it feels when you go to open or close it. The lock lever has been carried over from NEOTEC, with a design that makes it easy to operate even with your gloves still on. Furthermore, it heightens the degree of adhesiveness between the shield and the window beading by treating the access of face cover motion as eccentric and drawing the face cover closer to the shell when completely closed.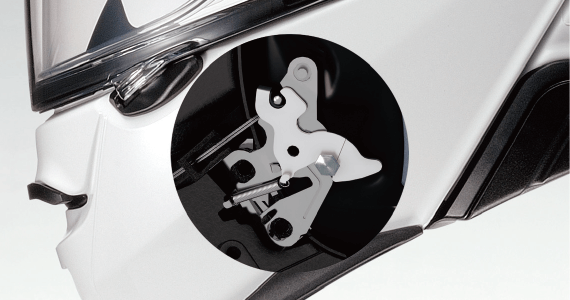 The lock mechanism for when the face cover is completely closed is made of all-metal parts and employs a 360°-pivoting lock system that encloses all of the pins on the shell.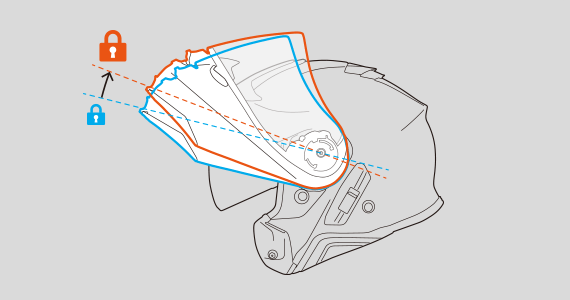 NEOTEC Il adopts a two-step lock mechanism for keeping the face cover in an open position. This new mechanism creates a two-step lock with even greater retention force by tucking the face cover back farther from the previously used one-step lock position that had a retention force suited for putting on and removing the helmet. For example, it will prevent the face cover from unintentionally coming down even when your head is being jostled around such as when you unload your bike of gear while your helmet is on.
*Do not ride with the face cover open as it is extremely dangerous
Aerodynamics
Advances that minimize the load on the rider and maximize aerodynamic performance
Based on our ideas about how this helmet might be paired with riding a variety of different motorcycles, for NEOTEC II we sought to deliver aerodynamics that are suitable for any riding position. The top air outlet serves as an aero device when riding in an upright position, while the rear spoiler integrated into the shell performs the same service when tilting forward while riding.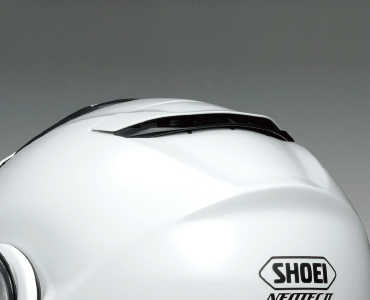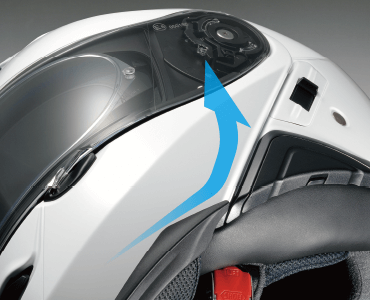 Vortex generators have been created at both edges of the face cover. They reduce the wind noise by carrying off the wind that flows in from the point where they connect with the shell.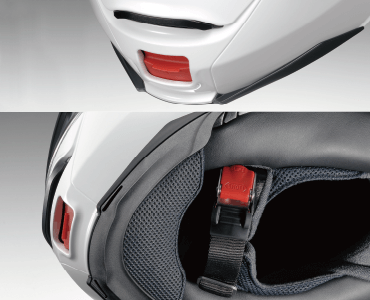 The aerodeflector—which also serves as a bracket for the chin curtain on the lower edge and also provides an accent to the face cover's design—functions as a part that improves aerodynamic performance.
Shield system / PINLOCK® EVO lens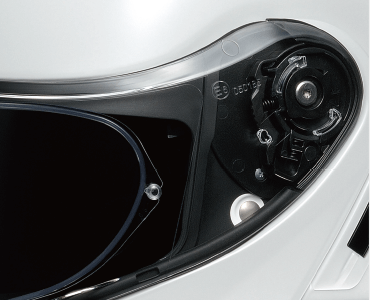 New-design CNS-3 shield with improved airtightness
NEOTEC II uses our new CNS-3 model shield designed specifically for this helmet. The shape curved toward the shell side of the shield's uppermost portion and the highly durable airtight sealing combine to prevent wind and water from coming in through the cracks around the shield and the window beading. Using optical design to optimize the curvature factor for each part of the shield, our design produces a clear field of vision that keeps distortions down to a minimum, even when it comes to the field available with the sun shield in place that goes through the Pinlock® EVO lens and shield.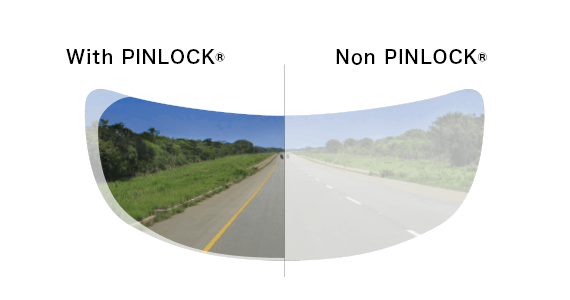 Vision of PINLOCK® EVO lens for CNS-3 PINLOCK®
*The photo is illustrative purpose only.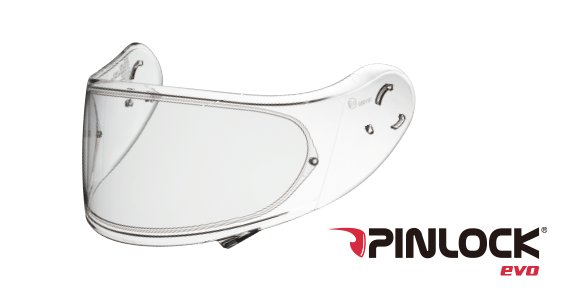 CNS-3 PINLOCK® + PINLOCK® EVO lens
Standard equipment is the PINLOCK® EVO lens, which keeps your field of vision clear even during conditions like rainy weather when your shield will fog up easily.
Ventilation
Reliable operability and advanced ventilation performance
The muffling of hot air inside the helmet can keep a rider from being able to concentrate on driving. The goal with NEOTEC II was to deliver extremely efficient ventilation performance that keeps the inside of the helmet cool and comfortable, as well as to provide durability that can cope with opening and closing the lid with an operability that is definite and simple.
We studied ventilation performance through wind tunnel tests both statistically and in terms of experience, and from that produced the optimal ventilation system. We also put a lot of work into looking at performance and practicality, considering such factors as operability when wearing gloves and ability to withstand long-term use. The ventilation that NEOTEC II provides represents another step forward.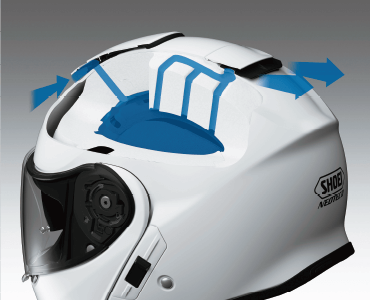 Wind is delivered from the upper air intake to the inside of the helmet, and discharges the hot air inside the helmet from the top air outlet.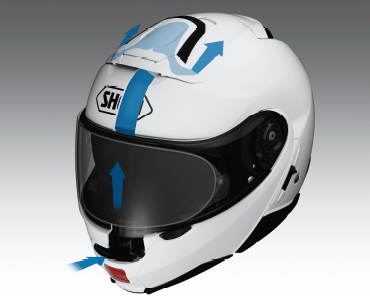 The lower air intake functions as a defogger ventilation system by sending air inside the shield to remove clouding.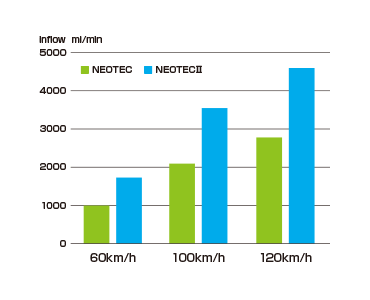 Measuring the volume of air taken in by the upper air intakes of NEOTEC versus NEOTEC II. The amount of inflow with NEOTEC II is around 1.7 times greater than that of previous products.
*Reference value comparison measured using our in-house wind tunnel testing facilities.
Interior
Interior parts to create a comfortable layout, selected based on your preferences and expected settings
The full-bodied interior setup firmly envelopes your head and comfortably supports you on even the longest of rides. The NEOTEC II uses a highly moisture-absorbent and quick-drying material for those areas that cover the cheeks and brow where sweat develops easily. It also employs a soft, raised fabric for those areas around the opening of the helmet itself. This hybrid combination delivers a helmet that feels soft when worn and is comfortable.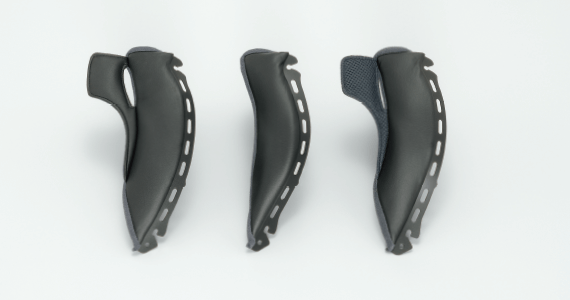 We offer as standard equipment a cheek pad fitted with a mesh-type noise isolator that prioritizes ventilation (pictured at right). Two other options that are also available are a cheek pad fitted with a leather noise isolator offering superior noise barrier performance (pictured at left) and a cheek pad without a noise isolator for when more coolness is required when riding in hot weather (pictured at center).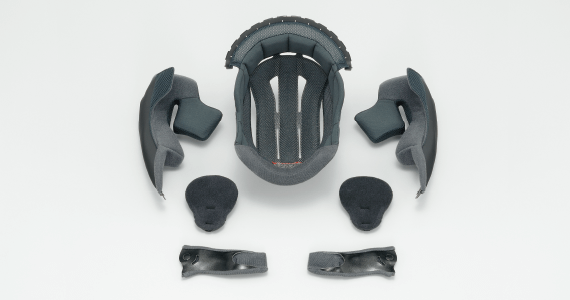 All interior parts can be removed for cleaning. You can adjust the fit by changing out the center and cheek pads for others available as options with different thicknesses.
Attachment mechanism for exclusive NEOTEC II communication system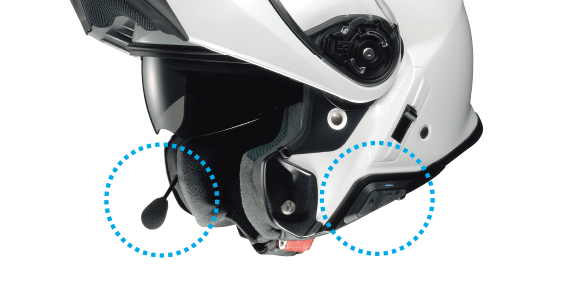 *SRL communication system designed exclusively for NEOTEC II is a SENA product. It does not come included with the helmet. SENA sells SRL, and all SRL-related service and support is provided by SENA.
Full consideration given with this new mechanism toward harmonizing with helmet design and ease of attachment
The extremely convenient communications system serves as a tool for enjoying your ride even more, allowing you to talk with friends, make/receive phone calls, and listen to your own music or the radio. When it comes to the many modular helmets outfitted with communication system that makes them into touring models, demand is on the rise these days to pair them with communication system that have been specifically designed for their use. NEOTEC II is designed to handle a mechanism for attaching the SRL* communications system specifically designed so that when worn it appears to be an integrated part of the helmet design. The options that allow you to enjoy your ride in greater convenience and better order are expanding.
Quietness
Seeking the quietness needed to deliver a safe and comfortable ride
When you drive for a long time, quietness has a tremendous effect on alleviating driver fatigue. People have also said that improving the conditions in which communications systems like navigation systems and voice calling are used, along with creating comfortable riding environment, are important elements. NEOTEC II employs technologies to improve quietness throughout in the quest to deliver more comfortable riding.
*When using the communication system, you may not be able to hear ambient sounds due to the volume settings on the system and your connected devices. Please set the volume when using it so you can hear ambient sounds.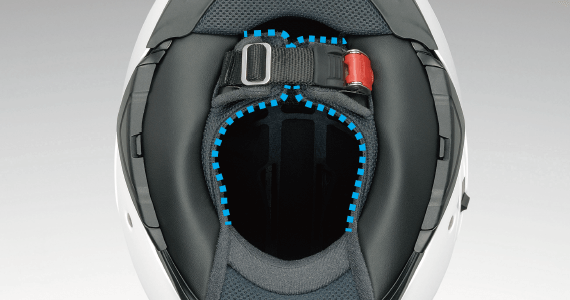 Noise isolator
Newly designed noise isolator has been put attached to the bottom edge of the cheek pad. It covers the spaces between the face and the interior parts of the mouth of the helmet and prevents wind and sound from entering from the bottom of the helmet.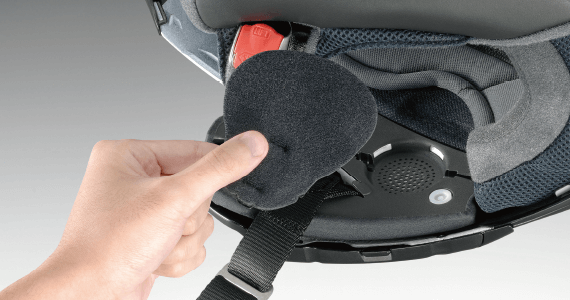 Ear pads
Removable ear pads have been installed in the ear space. We used a punching process for the ear space. This keeps down sound reverberations inside the helmet even when you've removed the ear pads.
Micro-ratchet-type chinstrap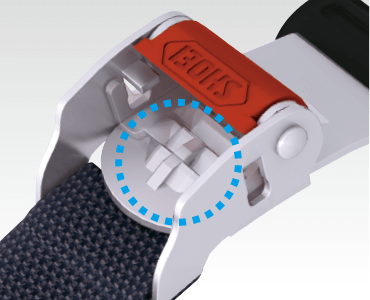 An easily adjusted chinstrap that provides better safety and durability
The chinstrap on the NEOTEC II uses a microratchet that allows for easy adjustment even when you're wearing gloves. The strap allows for five different levels of tightness. That way you can set it at the optimal position for keeping it secure. It also uses stainless steel for its superior durability. It has a structure that puts priority on safety. Ratchets always come into place at two spots when it's fastened. For example, the lock will not open if the release lever is not lifted past a certain point.
Sun shield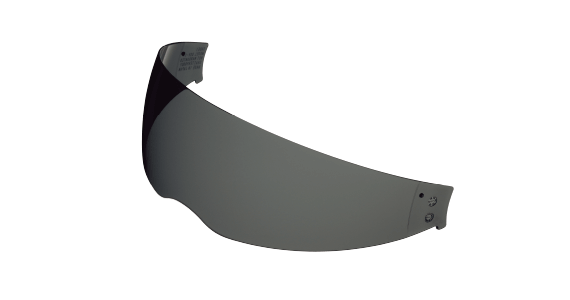 QSV-1 sun shield offers superior optical characteristics with few distortions and is on par with the European EN1836 standard for sun glasses. The hard coating applied to it has antifogging properties.
A high-quality inner sun shield rivaling the European standards for sunglasses
Our inner sun shield has won great favor from many riders for its convenience in allowing you to switch quickly between clear and smoke in response to abrupt changes in visual conditions such as changes in the weather, unexpected backlight, and going into a tunnel. NEOTEC II can also be outfitted with the well-established QSV-1 sun shield. The sun shield is handled using a sturdy wire, making for smooth operation. Furthermore, it provides a stopper function so it clicks when slid into place, helping to prevent the sun shield from sliding down accidentally.