"X-Series"― SHOEI's full face helmet for Racing developed through World's Top Road Races including MotoGP.
All of shell, shield, interiors and aero device are renewed by realizing safety in high level and utilizing most advanced know-how obtained from race support in top category. "REAL RACING SPEC" is truly brought into shape, X-Fourteen / X-Spirit III, the full face helmet to win races.
Brand new SHOEI top-of-the-line model starts racing in the world.
ALL COLLECTIONS
About Size
Please measure your circumference in your longest portions and select your size roughly.
However, different from hat, a size of helmet cannot be identified by circumference alone. And also, you may feel different when you wear several models of the same manufacturer in the same size.
Please wear your required model in your dealer before purchase.
Philippines(All products)
Malaysia(All products)
Thailnad(All products)
Other Areas (X-Fourteen)
Sizing Guidelines
Helmet Size
XXS
XS
S
M
L
XL
XXL
CM
-
53~54cm
55~56cm
57~58cm
59~60cm
61~62cm
63~64cm
Other Areas(All products excl. X-Fourteen)
Sizing Guidelines
Helmet Size
XXS
XS
S
M
L
XL
XXL
CM
51cm
53cm
55cm
57cm
59cm
61cm
63cm
Main Characteristics
Aero Form
Study Racing Position, Increase Aero Dynamic Performance in High Speed
X-Fourteen / X-Spirit III, developed putting much value on the use at circuits, sets the position where a rider strongly leans forward as basic position. The shell is designed by analyzing the riding wind running from front part of a helmet to rear, and then to back of racing suit at the wind tunnel facility. The edges and shapes on surface of a shell, rear stabilizer equipping rear flaps exchangeable depending upon riding condition and lower air spoiler are designed and equipped to maximally increase aerodynamic performance. Comparing values in wind tunnel experiment with its predecessor, LIFT, DRAG and YAWING decreased by 3%, 10% and 50% respectively (value for reference measured by in-house facility). Greatly increased aerodynamic performance can do a lot to ease riders' fatigue.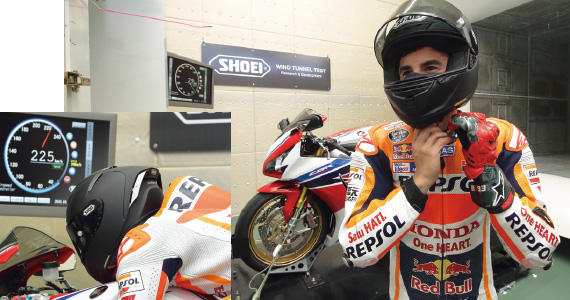 Marc Marquez joined wind tunnle experiment at over 200km/h for development.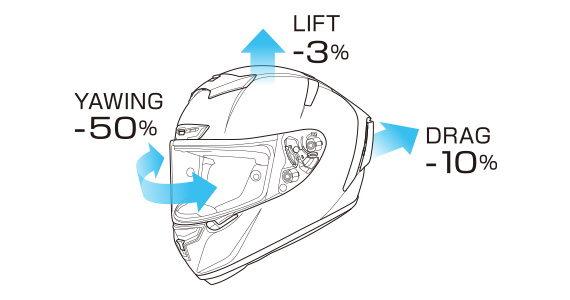 X-Fourteen / X-Spirit III Aerodynamic Performance
The values are of comparison with X-TWELVE (value for reference measured by in-house facility). LIFT, the force of moving upwards, is -3%. DRAG, the force to moving backwards, is -10%. YAWING, rolling force causing shaking of helmet in high speed riding, is -50%.
*Values are measured in in-house wind tunnel experiment facility.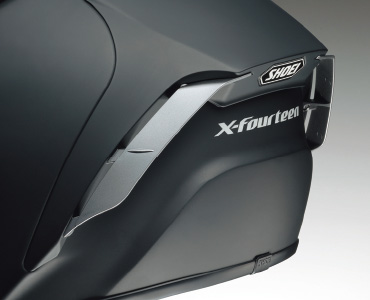 Rear Flap Wide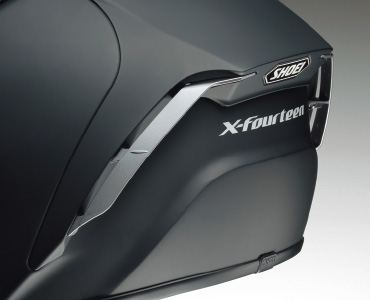 Rear Flap Narrow (option)
Rear Flap, the new feature of rear stabilizer the most characteritic part of X-Fourteen, equipped on both sides of rear stabilizer, has 2 types.
In addition to the standardized wide type superior in straight riding aerodynamics, the optional narrower type superior in motion preformance is also available.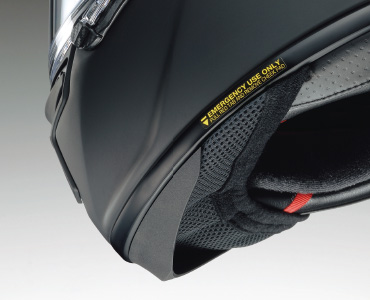 Lower Air Spoiler
By equipping removable Lower Air Spoiler, aerodynamic performance is enhanced, roll-in of riding wind is prevented and wind noise is restrained. Lower Air Spoiler can be fixed together with a chin curtain.
Shield System
Tear-off Film Attachable Flat Shield – CWR-F Shield
X-Fourteen / X-Spirit III is equipped with newly developed flat shield, "CWR-F". Radius and thickness are finely decided in each area of the shield, and optical property is fully improved. CWR-F shield made of polycarbonate realizes a clear vision and advanced rigidity eliminating deflection and kink in high speed riding, Combination with QR-E shield base makes it easy to fix and remove a shield, and high airtightness is ensured in variable axis double action mechanism.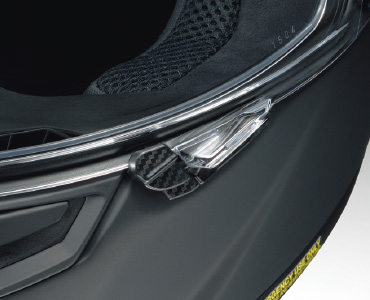 Shield Double Lock Mechanism
The shield lock mechanism which avoids unexpected opening of a shield locks a shield not only by clasping the hook, but also by holding a shield from outside using sliding lever. Firm shield locking is realized.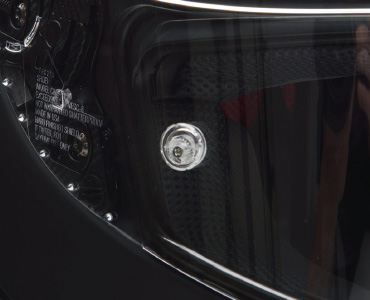 Tear-off Button
Ratchet type tear-off button to equip optional tear-off films, is newly developed with built-in easily adjustable eccentric adjuster.
PINLOCK® pin is equipped on the inner side of tear-off button, and new PINLOCK® EVO lens securing a broad vision can be equipped.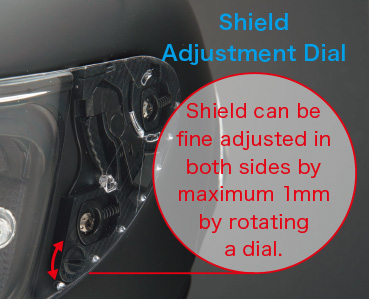 Shield Base
For a shield system securing easy and firm fixing and removing as well as high airtightness in variable axis double action mechanism, QR-E is introduced and enables easy and fine adjustment of a shield. The vortex generator on both sides of a shield is effective for improving aerodynamic performance and reducing wind noise.
PINLOCK® EVO lens
It is essential for comfortable riding to prevent fogging of a shield which occurs in low temperature or rainy weather.
Mist retardant PINLOCK® EVO lens is standardized in X-Fourteen / X-Spirit III. It covers almost all of a vision, and prevents fogging and secures comfortable vision in every condition.
Vision of CWR-F PINLOCK® EVO lens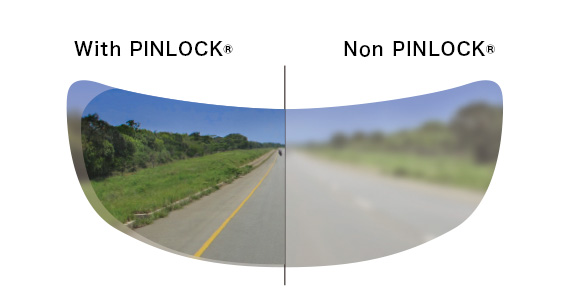 *The photo is illustrative purpose only.
CWR-F Shield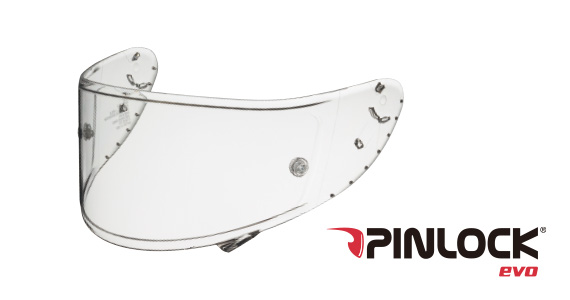 Interiors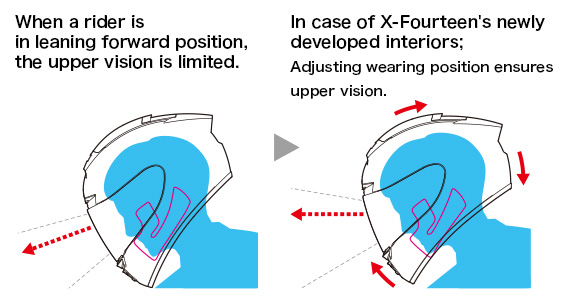 Adjust Wearing Position of Interiors corresponding to Racing Position
The wearing position is different between upright riding position when riding on a standard bike and leaning forward position when riding on sport bike. Focusing on this point, the position of interiors of X-Fourteen / X-Spirit III can be adjusted in 2 steps depending on a riding position. By adjusting fixing position of center pad and cheek pad, the angle of rider's head can be rotated forward by approximately 4 degrees from standard position, and as a result, it secures upper vision in leaning forward position. To ensure broader vision when leaning bikes in strongly leaning forward position gives riders great merit.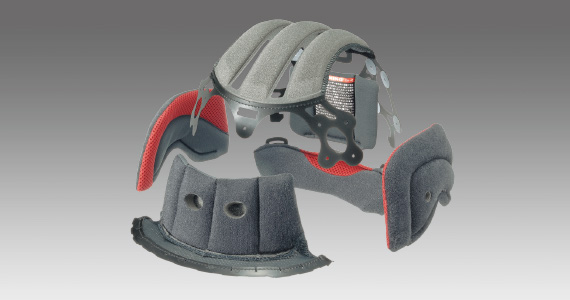 Individually Exchangeable Pad Makes Best Fitting for Every Rider
For X-Fourteen / X-Spirit III, the new interior system is introduced consisting of 6 center pads while each of them may be exchanged individually. This system realized best fit by exchanging each pad of front, rear, side, top, and neck to optional pad in different thickness to fit rider's head shape. Surface material of interior consists of high performance of moisture absorption, quick drying and raised fiber with comfortable texture. Cheek pad is equipped with E.Q.R.S. which makes it easy to remove a helmet in an emergency.
Example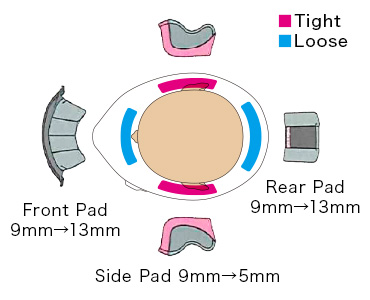 Tight in side area, loose in front and rear area
Change side pads to 5mm pads thinner than standard, and front and rer pads to thicker 13mm ones.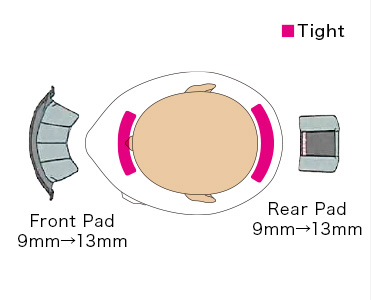 Tight in front and rear area
Change front and rear pads to thinner 5mm ones.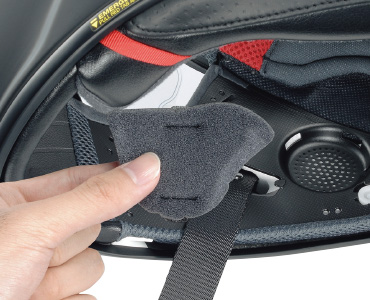 Ear Pad
Ear pads are removable. Ther space around ears can be adjusted depending upon rider's performance.
Ventilation System
Strongly introduce riding wind, exhaust hot air and moisture effectively―ventilation system makes a rider feels wind.
Air intakes are equipped on 2 parts of X-Fourteen / X-Spirit III, front and upper areas, in order to produce an effect of ventilation system even in leaning forward position.
Air outlet holes of top air outlet and inside of rear stabilizer exhaust hot air effectively using negative pressure.
In addition, new air route is equipped in lower part of a helmet, and air introduced to lower air intake is divided in 2 ways. Upper part of a lower air intake leads air to inside of a shield and works as a defroster, and lower part of it leads air to cheek area where hot air and moisture may remain.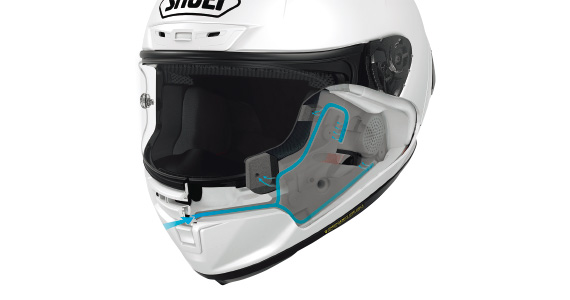 Cheek Vent System
Riding wind introduced from lower air intake runs through air route inside of chin bar and reaches to urethane foam directly from back side of cheek pad. It prevents hot air to stay inside urethane foam.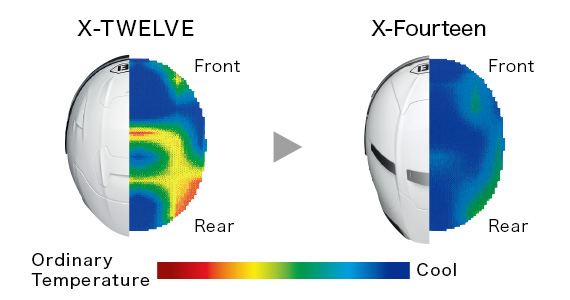 Comparison with X-TWELVE
Color graph shows ventilation effect measured in wind tunnel experiment. Blue color indicates lower temperature. Change of temperature after exposed to Wind equivalent to 100km/h for 30secs.
*Values are measured in in-house wind tunnel experiment facility.
Shell & Liner
The sizes for X-Fourteen / X-Spirit III are set by the combination of 4 sized shells and 5 sized impact absorbing liner, and total 6 sizes from XS to XXL size.
AIM+ shell structure which is of complex layers of strong glass fiber and high performance organic fiber in high elasticity satisfies requirements of the safety standards easily. In addition to JIS, X-Fourteen / X-Spirit III is SNELL 2015 certified.
E.Q.R.S.(Emergency Quick Release System)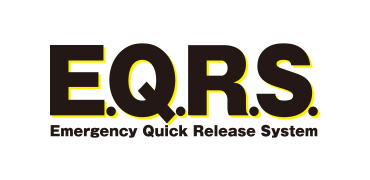 Easy Helmet Removal System in case of an Accident
In an accident, it is difficult for a third party to remove a helmet from a rider. Although impact-absorbing performance and comfort are essential for a helmet, to support a third party giving aid to a rider in an accident is one of the important functions of a helmet. E.Q.R.S. (Emergency Quick Release System) developed by SHOEI makes removing of a helmet easy minimizing a load on a rider's neck where is possibly injured by pulling strip.
*When removing cheek pads for a usual maintenance, do not use E.Q.R.S. tabs.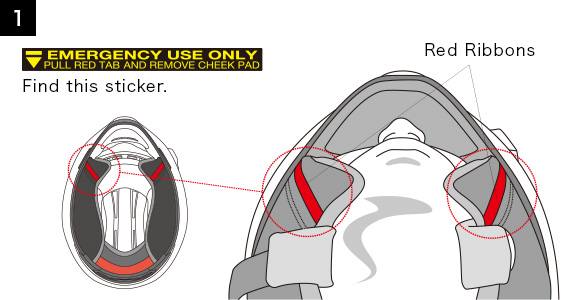 Hang a finger on a red ribbons and draw out cheek pads.