ALL COLLECTIONS
About Size
Please measure your circumference in your longest portions and select your size roughly.
However, different from hat, a size of helmet cannot be identified by circumference alone. And also, you may feel different when you wear several models of the same manufacturer in the same size.
Please wear your required model in your dealer before purchase.
Philippines(All products excl. X-Fifteen)
Malaysia(All products)
Thailand(All products)
Other Areas(X-Fourteen)
Sizing Guidelines
Helmet Size
XXS
XS
S
M
L
XL
XXL
CM
-
53~54cm
55~56cm
57~58cm
59~60cm
61~62cm
63~64cm
Philippines(X-Fifteen)
Other Areas(All products excl. X-Fourteen)
Sizing Guidelines
Helmet Size
XXS
XS
S
M
L
XL
XXL
CM
51cm
53cm
55cm
57cm
59cm
61cm
63cm
Main Characteristics
Form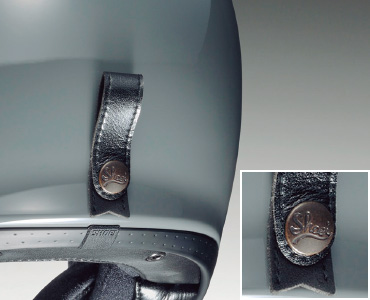 The goggle belt with SHOEI logo on snap button is equipped on the rear of the helmet. It adds an accent to the whole design.
Form
While the shell of J·O is in orthodox shape, duck tail shape is adopted in the bottom of rear head and that is one of the characteristics of J·O which is pursued not only classical style but also the originality. The whole design of J·O realizes compact and stylish looking when wearing it.
CJ-3 Shield
CJ-3 shield is exclusively designed for J·O and born from thorough study to satisfy both of safety and comfort forming a part of riders' fashion. While having an image of classical style, CJ-3 has a style of a bubble shield. Although CJ-3 has a large curvature, it realizes clear vision by pursuing the best thickness and curvature for each part of the shield.
In addition, the shape and the opening/closing angle are designed to minimize roll-in of wind avoiding contacting with riders' faces, glasses or sun glasses.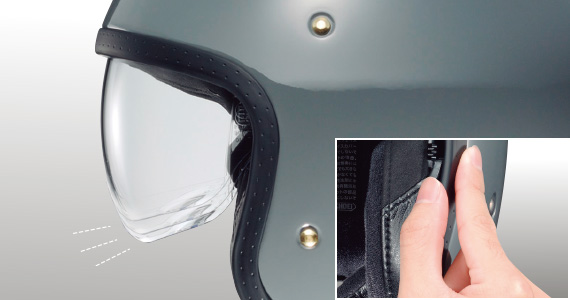 The preset levers on both sides can be adjusted to make a shield in best position for each one's face and nose.
It enables to adjust the height of bottom end of the shield in 3 steps.
Shield can be opened or closed by holding tabs on both sides of a shield.
Clear shield is standardized, and optional dark smoke and yellow shields are in line-up.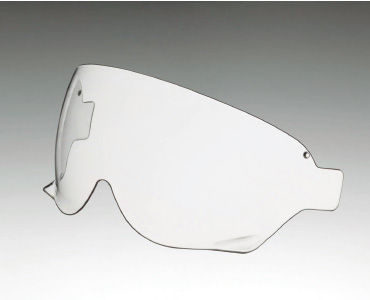 Clear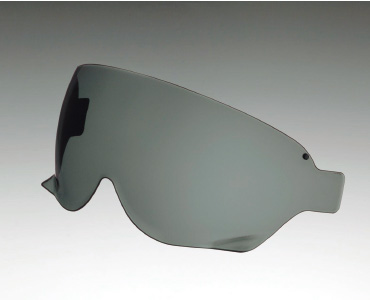 Dark Smoke
Yellow
Comfort Padding
Interiors should be kept clean even if the helmet is simple small open face. While the interiors of J·O are simple and classical, all of them including chinstrap covers are removable and washable.
Fine adjustment of fitting can be made using optional center pads or and cheek pads.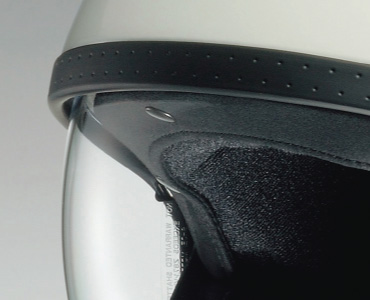 Sueded fabric and matt finished snap buttons are used for front bracket to prevent the reflection of lights which disturbs riders' vision.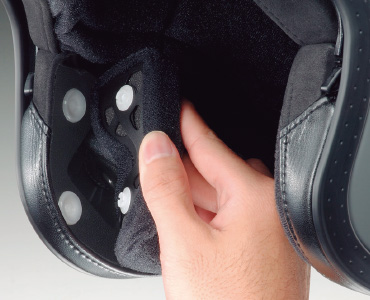 The artificial leather is used for the area to equip cheek pad to cover a gap with interiors. It not only gives a classical feeling to the helmet but also prevents roll-in of wind.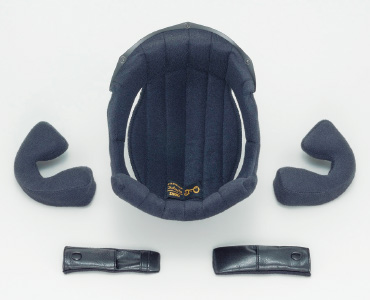 J·O exclusive interiors which hold riders' heads softly use raised fabric with soft texture.
Accessories