Open-face Helmet with Innovative Sun Visor and Condensation of all Performances
Glaring sunlight in the morning and the evening and reflecting light from road surface or car disturb vision, hurt rider's eyes and cause fatigue. J-Cruise is equipped with smoke colored open/close type "QSV-1 Sun Visor" with minimum, distortion. It protects vision from strong sunlight and can be opened or closed easily by handling of lever against a change of weather or sudden change of lightness in a tunnel. It is an innovative open-face helmet in which a vision can be adjusted easily corresponding to conditions without having 2 shields of clear and smoke in touring.
ALL COLLECTIONS
About Size
Please measure your circumference in your longest portions and select your size roughly.
However, different from hat, a size of helmet cannot be identified by circumference alone. And also, you may feel different when you wear several models of the same manufacturer in the same size.
Please wear your required model in your dealer before purchase.
Philippines(All products excl. X-Fifteen)
Malaysia(All products)
Thailand(All products)
Other Areas(X-Fourteen)
Sizing Guidelines
Helmet Size
XXS
XS
S
M
L
XL
XXL
CM
-
53~54cm
55~56cm
57~58cm
59~60cm
61~62cm
63~64cm
Philippines(X-Fifteen)
Other Areas(All products excl. X-Fourteen)
Sizing Guidelines
Helmet Size
XXS
XS
S
M
L
XL
XXL
CM
51cm
53cm
55cm
57cm
59cm
61cm
63cm
Main Characteristics
QSV-1 Sun Visor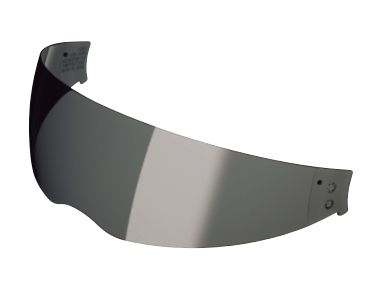 QSV-1 Sun Visor
Equipped with Inner Visor which can be Opened or Closed Instantly
Corresponding to Strong Sunlight or Tunnel Immediately
High precision injection molded visor made of polycarbonate conforming to EN-1836 and ANSI Z80.3, European and U.S. standards for sunglasses. Many of requirements such as strength, identification of signal colors and distortion are satisfied.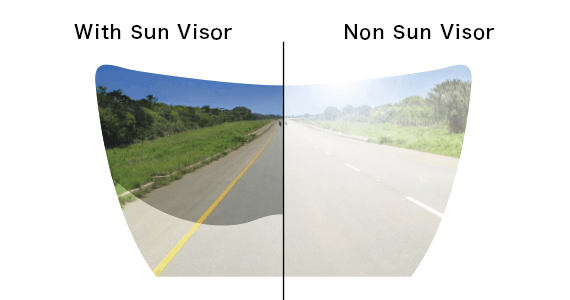 Vision while Sun Visor is used
Superior vision is secured by proper light decrease and contrast. It works best against sunlight in the morning and/or evening, strong sunlight in summer or reflecting light. Hard coated on both sides with anti-fog performance. It is tough against fogging and scratch with minimum distortion.
*The photo is illustrative purpose only.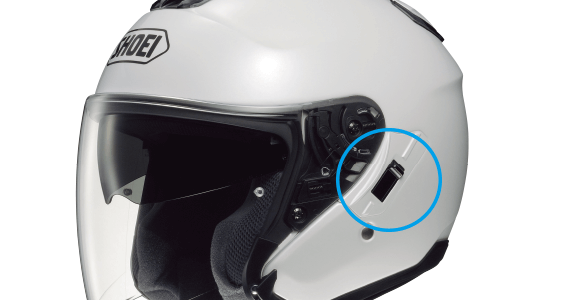 Lever can be easily handled with gloved hand. It prevents unexpected sudden drop of sun visor in shaking during a ride.
CJ-2 Shield
Equipped with Newly Developed Shield restraining Distortion and Roll-in Wind
"CJ-2 Shield" was newly developed as a result of pursuit of curvature with minimum distortion and reflection. A shield surface which is extended downward compared with CJ-1 realizes very natural and clearer vision by enhancement of optical performance with different curvatures and thicknesses partially in outer and inner sides. An unique design of a bottom end of a shield which is a key of J-Cruise's shape is designed to restrain rolling-in of a riding wind from the bottom.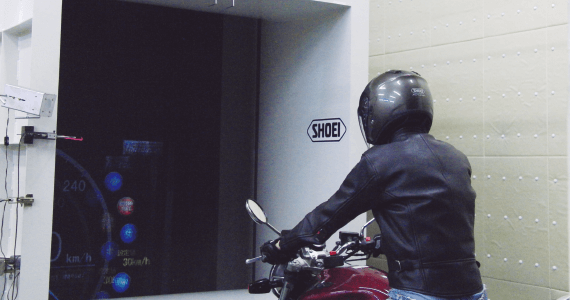 Scene of Experiment in SHOEI's Wind Tunnel.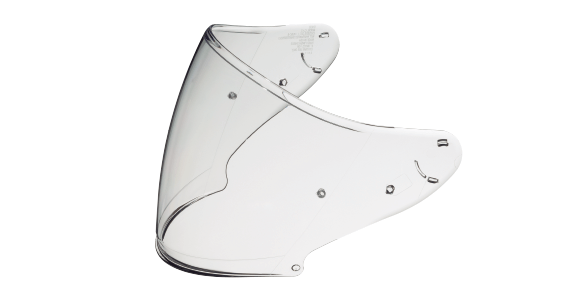 CJ-2 made of polycarbonate cuts UV by more than 99%. An optional PINLOCK® EVO lens which prevents fogging of a shield effectively may be equipped.
Double Action Opening/Closing System realizing Enhanced Close Contact with Shell
Same as a shield, a shield base is also newly developed. Variable axis double action mechanism is adopted to an open-face type also. When a shield is closed, "down & press" presses a shield to window beading closely. And also, double lipped window beading improved close contact further. Comfort and quietness are realized in a really high level by restraining invasion of riding wind, rainwater.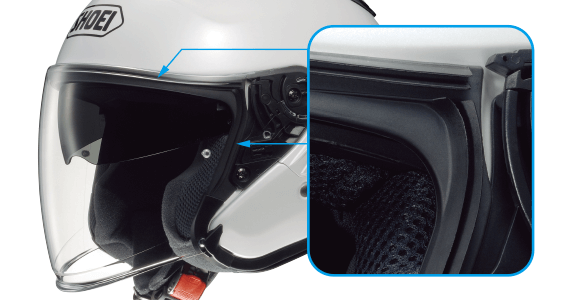 A window beading is in a double lip shape and avoids invasion of rainwater and wind by enhanced close contact with a shield.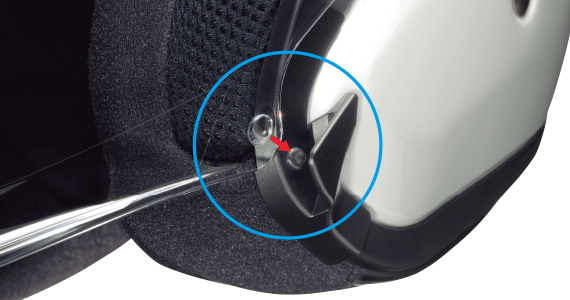 A shield lock mechanism is equipped in the left side of the bottom end of a shield to prevent an unexpected opening of a shield. Handling is simple and firm. A shield is locked when fully closed asn can be opened when left bottom is pressed slightly.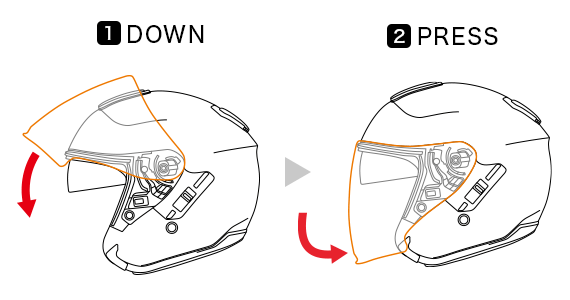 Shield positions are 2, fully open and fully closed, for easy handling. When a shield is closed, it is pressed to a window beading by a spring.
PINLOCK® EVO lens (option)
Fogging is prevented while raining or cold, PINLOCK® EVO lens for Open-face
PINLOCK® EVO lens which prevents fogging of a shield is newly adopted to an open-face helmet. PINLOCK® EVO lens for CJ-2 covers up to top end of a shield to avoid fogging of top end of a shield which disturbs vision during a ride. Furthermore, it is extended downward by about 8mm compared with a sheet for full-face to cover a larger vision of an open-face.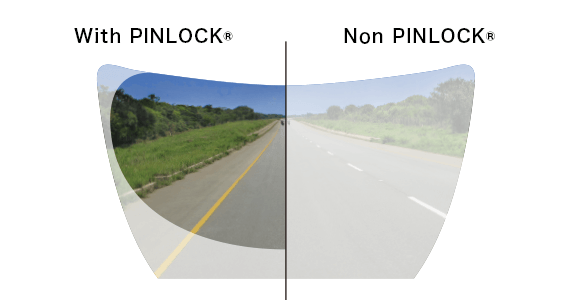 Vision of PINLOCK® EVO lens CJ-2 Shield
*The photo is illustrative purpose only.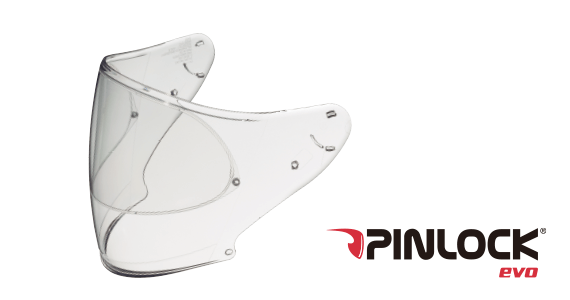 CJ-2 PINLOCK® shield + PINLOCK® EVO lens
3D Full Support Inner IV
Fabricof interiors is a hybrid of high humidity absorption, quick drying and raised fiber of comfortable texture
All interiors are removable. Inner is adopted 3D Full Support Inner IV with high holding and comfortable fitting. Surface material of interior consists of high performance of humidity absorption, quick drying and raised fiber of comfortable texture. To wear glasses easily, soft polyurethane is adopted upper of cheek pad. In additionally it is narrowed space between cheek and interior, therefore saving uncomfortable noise to inside.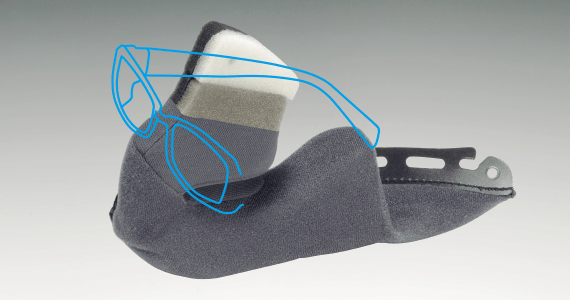 Polyurethane foam for an area of temple of glasses is changed to soft type to make wearing easy.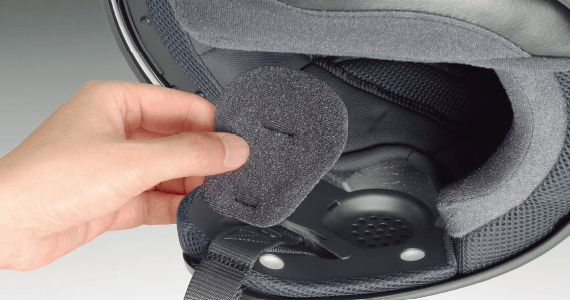 An ear pad equipped around the ear is removable to secure a space in the area. A punching structure of a base portion avoids an echo of noise even after the pad is removed.
Pursuit of Aerodynamics which may Contribute to Reduction of Wind Noise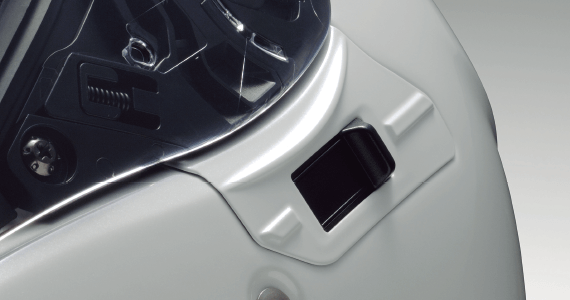 A vortex generator which forms an edge line in front of a sun visor lever restrains wind noise caused by the lever.
Designs for aerodynamics are applied to J-Cruise such as aero-spoiler integrated to a shell and a shape of a shield.
All of these were designed through verification by wind tunnel experiment. A load to a rider during a ride is minimized and uncomfortable wind noise is restrained.
Pursuit of Smoothness and Aerodynamics
Firm Safety and Smart Shape
Firm safety by an appropriate impact absorption performance was secured without sacrificing essential performance and safety which might have been caused by enlarging a shell and influence to an impact absorption liner caused by equipping a sun visor. On the other hand, pursuit of aerodynamics realized a smart shape. Combination of these 2 factors is a big characteristic of J-Cruise.
A stable riding safety without shaking of a helmet contributes to safety, comfort and reduction of fatigue in a high speed range. The longer you ride in distance and time, the more you may experience these performances.
Micro Ratchet Type Chinstrap
Removing and fixing can be made by one touch. An original locking system makes 2 claws work always for safety
SHOEI's original micro ratchet buckle which makes removing and fixing of chinstrap by one touch is adopted. Fine adjustment of a ratchet is easy. 2 claws work always while locked. Stainless steel ratchet is adopted for safety and durability. Lock is not released unless lever of buckle is raised over a certain extent.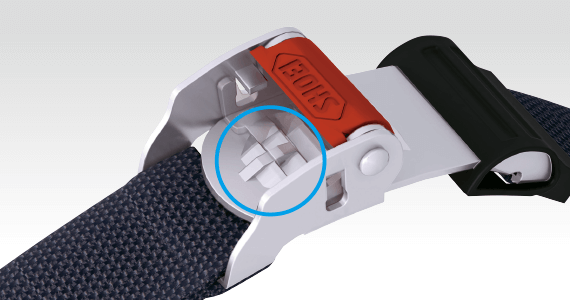 SHOEI's own Locking System where claws work always.
Lock is not released unless lever of buckle is raised over a certain extent.
Ventilation System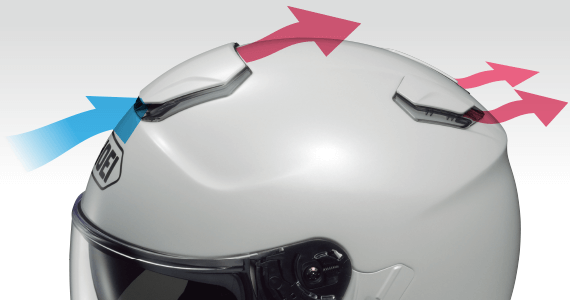 A component in a rear portion of an upper air intake performs ventilation of sun visor housing.
Simple and High Performance Ventilation, Easy Opening and Closing
Ventilation system is essential in a current helmet. It is composed, in J-Cruise, of an upper air intake in a sliding cover type for easy opening and closing and rear outlet. Shapes and positions were adjusted based on data of wind tunnel experiment to realize a high performance ventilation which can be experienced even in a low speed restraining wind noise.
Accessories