New Model of Z Series which was reborn with Everything New including Shield System.
"Light weight and compactness", a concept of the series, is further advanced with lively aero-shape, highly effective ventilation system and comfortable and quiet interiors. Z-7, pure sports full-face with all above, creates a new world of sports riding.
ALL COLLECTIONS
About Size
Please measure your circumference in your longest portions and select your size roughly.
However, different from hat, a size of helmet cannot be identified by circumference alone. And also, you may feel different when you wear several models of the same manufacturer in the same size.
Please wear your required model in your dealer before purchase.
Philippines(All products excl. X-Fifteen)
Malaysia(All products)
Thailand(All products)
Other Areas(X-Fourteen)
Sizing Guidelines
Helmet Size
XXS
XS
S
M
L
XL
XXL
CM
-
53~54cm
55~56cm
57~58cm
59~60cm
61~62cm
63~64cm
Philippines(X-Fifteen)
Other Areas(All products excl. X-Fourteen)
Sizing Guidelines
Helmet Size
XXS
XS
S
M
L
XL
XXL
CM
51cm
53cm
55cm
57cm
59cm
61cm
63cm
Main Characteristics
Compact & Lightweight
"Light and Small", an ideal shape of a helmet is realized
"Compactness", one of Z series' concepts, is realized in a lively aero shape.
Shells are in 4 sizes adding exclusive shell helmet sizes of S and XS to make these smaller.
And also, every component is made lighter to achieve ultimate light weight as sports full-face. All of these realized an ideal compactness and light weight.
Shell Size
| Pruduct Size | XS | S | M | L | XL | XXL |
| --- | --- | --- | --- | --- | --- | --- |
| Z-6 | M | M | M | L | XL | - |
| Z-7 | S | S | M | L | XL | XL |
A shell of S size was newly developed. XS and S sizes became more compact than those of predecessor. Total 6 sizes are in line-up including newly added XXL size.
Aero Shape
Refined Aero Shape realizing both Design and Performance
High Speed Riding splitting an Air.
Together with a rider and a motorcycle, a helmet also attacks a wall of air.
Aerodynamics of a helmet affects directly a load on neck of a rider especially in high speed riding.
SHOEI improved aero shape firmer and more practical by repeating tests in large wind tunnel facility.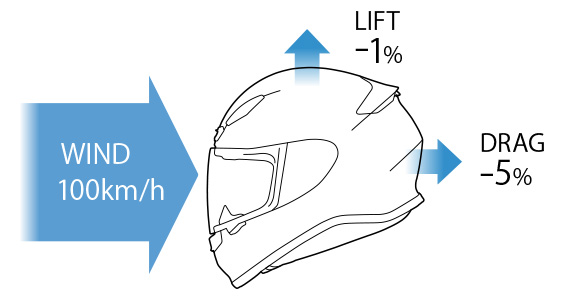 Aerodynamics of Z-7
Compared with Z-6, DRAG and LIFT are improved by 5%(*) and 1%(*) respectively.
*Values are measured in in-house wind tunnel experiment facility.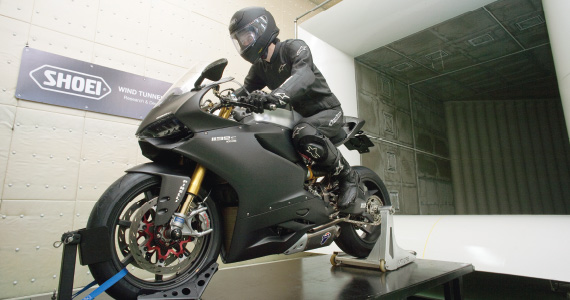 Quietness
"Quietness = Comfort" experienced especially in Long Riding
A load on a rider in long time high speed riding is not only a wind pressure. A wind noise invading into a helmet disturbs rider's concentration and causes fatigue when it continues long time.
Aero shape and airtight shield system minimize occurrence of wind noise itself and airtight interiors block invasion of noise. And also, equipping removable ear pad in ear space of a helmet realized substantial decrease of wind noise.
Double and triple devices against occurrence and invasion of noise restrain rider's fatigue in long time riding substantially.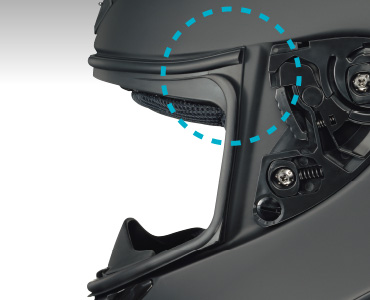 Independent lips of window beading in upper and side portions made it more elastic and improved close contact with a shield. An improved air tightness avoids occurance of wind noise caused by invasion of air.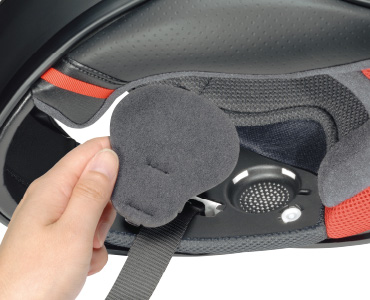 Removable ear pad is equipped in ear space to avoid invasion of wind noise. Plastic plate in ear space puching processed to avoid echo of noise inside.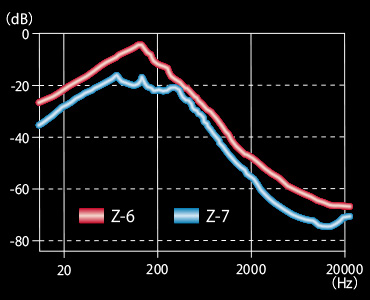 Comparison of Wind Noise under Circumstance equivalent to Rinding as 100km/h
Compared with Z-6, wind noise is restrained more in all frequency ranges in Z-7.
*Values are measured in in-house wind tunnel experiment facility.
Shield System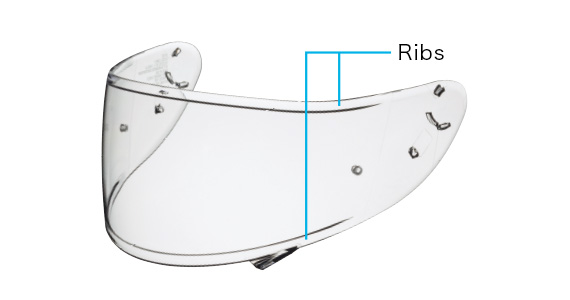 Newly Developed CWR-1 Shield
Ribs on top and bottom in the same height as thickness of PINLOCK® fog-free sheet enhance its close contact with a shield and improve rigidity of a shiled.
CWR-1 Shield which secures Natural and Clear Vision
Newly developed "CWR-1 Shield" provides you with natural and clear vision with improved optical characteristics and minimum distortion realized by applying best and different radius and thickness in each area of a shield. And also, ribs on top and bottom of a shield improve rigidity of a shield and eliminate bending of a shield by wind pressure and twisting in opening or closing. High quality is realized also in airtightness in high speed riding and easy handling of opening and closing.
PINLOCK® EVO lens which prevents Fogging of Shield
It is essential for comfortable riding to prevent fogging of a shield which occurs in low temperature or under rainfall. PINLOCK® EVO lens is standardized in Z-7.
It covers almost all of a vision prevents fogging and secures comfortable vision in every condition.
Vision of PINLOCK® EVO lens for CWR-1 PINLOCK®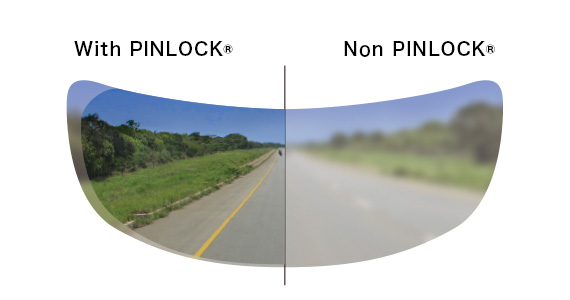 Anti-fog sheet covers large area of a shield.
*The photo is illustrative purpose only.
CWR-1 Shield + PINLOCK® EVO lens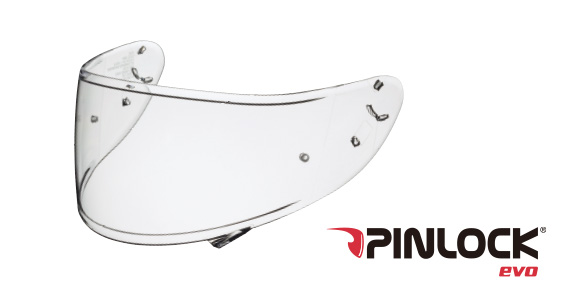 Further Advanced Shield Opening and Closing System
A shield system securing easy and firm fixing and removing as well as high airtightness in variable axis double action mechanism was also renovated in every aspect in Z-7.
Review of a spring ratio of shield base largely improved smoothness of opening and closing as well as airtightness in fully closed position. When a shield is fully closed, a hook located in rear side of shield nob is locked to a shell and avoids unexpected opening or motions of a shield by wind pressure maintaining high airtightness.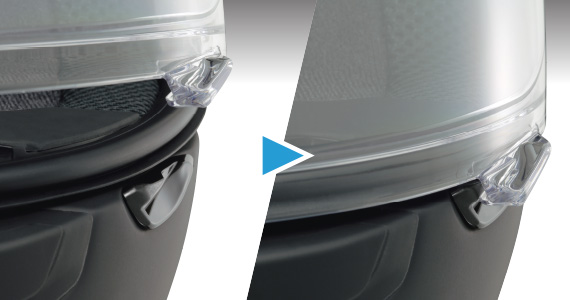 A shield lock mechanism is equipped in a nob in bottom of a sheild and hold a shield firmly when it is fully closed.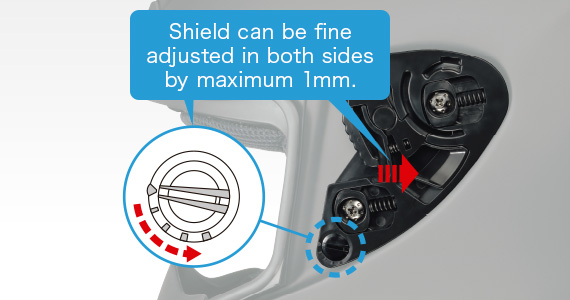 Shield base slides fore and rear in 5 steps by rotating a dial. Airtightness of a shiled can be fine adjusted in both sides by maximum 1mm.
Interiors
Comfortable fitting and firm hold realize high quality riding
Comfortable fitting, essential to comfortable riding, is secured by interior system which is newly adopted in Z-7.
A shape or rigidity of bottom of shell may affect may affects tight feeling when wearing or removing a helmet. A cheek pad integrated with distinctive cut line in shell side softened tight feeling in wearing and removing, and improved easiness of motions around neck for rear checking. And also, 3D shaped polyurethane foam pad realized a cheek pad in high volume at the bottom which supports cheek softly and, at the same time, avoids invasion of wind or noise.
3D Full Support Inner Type IV is applied to center pad. While soft napping material is applied to an area which touches a skin in wearing or removing, high moisture absorptive advanced material is applied to an area where effective absorption of sweat is expected while wearing. It realized both soft fitting and comfortable wearing. And also, red mesh material is used partially as an accent to express sporty impression by grey and red colors.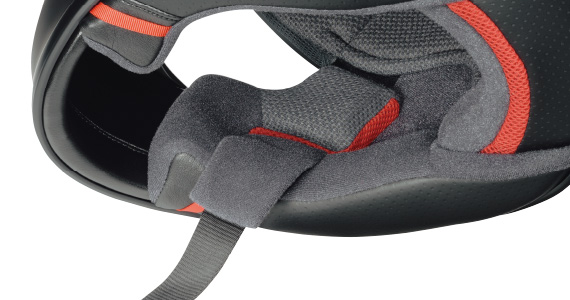 For part which will be affected friction damage consists of raised fiber. For part of necessity to absorb sweat consist of highly moisture absorptive nylon.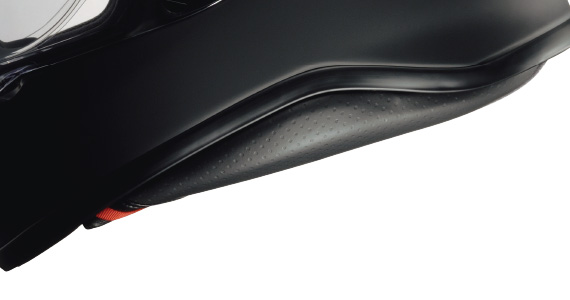 Distinctive cut line eases wearing and removing and softens tight feeling.
Ventilation System
The more you ride, the more you feel wind and coolness
Air intakes are placed in a center of forehead and both sides and riding wind is lead straight to inside of liner realizing high ventilation performance where a rider may feel wind even inside a helmet. Air outlets with spoiler performance stabilize a helmet in high speed riding and exhaust hot air effectively through 4 outlet holes.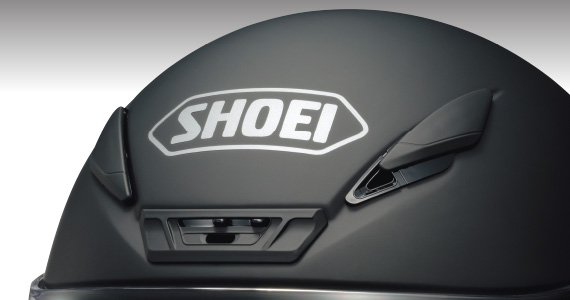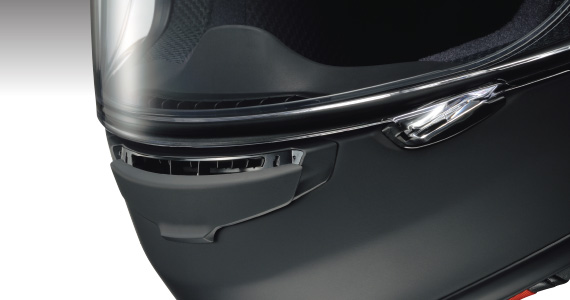 E.Q.R.S.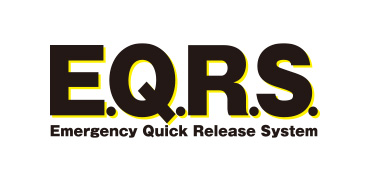 It is very difficult for a third party to remove a helmet from a rider in an accident.
Exclusive tab is equipped to cheek pad of Z-7.
By pulling this tab, a relief party may remove a cheek pad and remove a helmet easily without hold on a cheek.
*When removing cheek pads for a usual maintenance, do not use E.Q.R.S. tabs.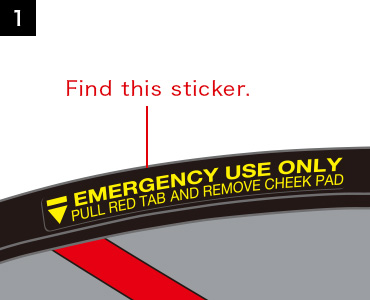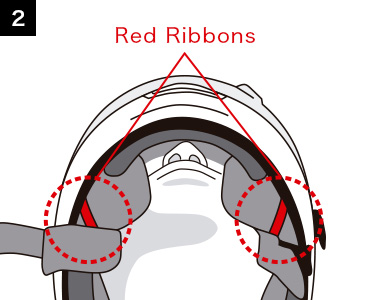 Pull Out Red Tab