Full-Face Helmet for Exclusive Use by Kids born from Pursuit of Safety & Comfort
Can a helmet for kid be in a large size of helmet for senior?
What is the most suitable helmet for kid?
"X-KIDS" is a sports full-face helmet for exclusive use by kids born from total verification of characteristics of kid's body and SHOEI's knowhow and latest technologies. Molding technology of light and rigid AIM+ shell realized lightweight and compact newly designed shell. "Inner Pad Adjustment System" based on "Fully Removable 3D Full Support Inner III" makes adjustment of interiors' size against growth of age easy. All equipment guarantee riding of kids riders safe and comfortable.
ALL COLLECTIONS
About Size
Please measure your circumference in your longest portions and select your size roughly.
However, different from hat, a size of helmet cannot be identified by circumference alone. And also, you may feel different when you wear several models of the same manufacturer in the same size.
Please wear your required model in your dealer before purchase.
Philippines(All products excl. X-Fifteen)
Malaysia(All products)
Thailand(All products)
Other Areas(X-Fourteen)
Sizing Guidelines
Helmet Size
XXS
XS
S
M
L
XL
XXL
CM
-
53~54cm
55~56cm
57~58cm
59~60cm
61~62cm
63~64cm
Philippines(X-Fifteen)
Other Areas(All products excl. X-Fourteen)
Sizing Guidelines
Helmet Size
XXS
XS
S
M
L
XL
XXL
CM
51cm
53cm
55cm
57cm
59cm
61cm
63cm
Main Characteristics
Head of kid is not a simple small sized head of senior.
A Head of kid is in a growing process, and so, in a triangle shape. Shorter circumference of chin of kid may affect retention performance of chinstrap as well as chin holding performance.
And also, a shorter and weaker neck of kid may cause a damage of collarbone by chin-bar in an accident. A shell shape of bottom of X-KIDS is designed compact securing proper protection performance based upon shape of kid's bones.
Light Weight and High Rigidity required further for Kids
Exclusive Shell for Kids in AIM+*
*AIM+ (Advance Integrated Matrix Plus Multi Fiber): High Performance Shell Structure in Light Weight and High Rigidity realized by applying High Performance Organic Fiber in High Elasticity on Complex Layers of Strong Glass Fiber and 3D Formed Organic Fiber.
Characteristics of kid's head are not only in its head.
Kid's head may be hit on a ground when he falls. It is because a ratio of kid's head against total body is large and neck is weak compared with senior.
In order to decrease a load to neck substantially, lightweight and high rigidity AIM+* is adopted to a shell same as X-TWELVE, SHOEI's flagship helmet.
Furthermore, "Compact and Aerodynamic Design" enhances motion performance and decrease a load to neck and fatigue during a ride.
Kid's head gets larger along with growth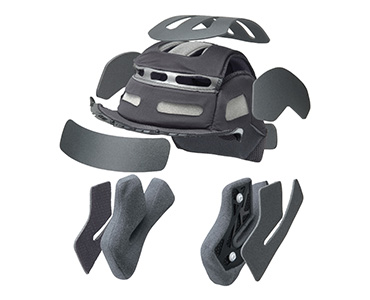 Inner Pad Adjustment System
Adjustment of interiors is realized along with growth of kid
"Inner Pad Adjustment System" realizes various adjustments.
"3D Full Support Inner III" which realizes "Wrap around the Head Fit" by 3D formed pad is adopted to inner pad same as X-TWELVE. All pads of interiors may be removed and washed for sweating and delicate skin of kid. Removable pads for size adjustment are built-in in both cheek sides, top, forehead, both head sides and rear head portions of pad. Size adjustment from standard size of XXS (51cm) to XS (53cm) can be made by removing size adjustment pads. And also, fine tuning of fitting can be made by fixing or removing inner pad.
Superior Ventilation System
Superior ventilation system is essential for a helmet of a kid who sweats more than senior.
Lower air intake and sight-lation system are adopted in top of chin guard and oval intake and oval vortex ventilation are applied to shell top for high ventilation performance. All opening/closing systems may be handled by gloved hand.
Q.R.S.B. for One Touch Removal and Fixing of Shield
Easy removal and fixing built-in mechanical shield, "CX-1V" & "Q.R.V" is adopted to a shield system. Wind noise is restrained and removing or fixing of a shield may be made by one touch. Full range of "CX-1V Optional Shields" may be used.
D-Ring Type Chinstrap for Firm Fixing
Although someone may think that easy fixing/removing one touch buckle is better for kid's helmet, SHOEI decided to adopt D-ring type chinstrap considering such facts that adjustment or fixing of chinstrap is done by parent in many cases and that kid may release by mistake in tandem riding. Not only physical characteristics of kid but also its characteristics of actions are taken into consideration for total safety.
Accessories