Unity of Performance and Design
Main concept in development of new generation touring full-face was a unity of performance including firm safety and stylish design.
While an inner visor which opens and closes makes it possible to correspond to various circumstances, a shell is designed not to compromise thickness of an impact absorption liner, essential factor for an impact absorption performance, and at the same time, not to be unnecessarily large. A lines streaming from side to rear head works as an integrated spoiler and improves aerodynamic performance.
GT-Air creates a new standard of touring full-face.
ALL COLLECTIONS
About Size
Please measure your circumference in your longest portions and select your size roughly.
However, different from hat, a size of helmet cannot be identified by circumference alone. And also, you may feel different when you wear several models of the same manufacturer in the same size.
Please wear your required model in your dealer before purchase.
Philippines(All products excl. X-Fifteen)
Malaysia(All products)
Thailand(All products)
Other Areas(X-Fourteen)
Sizing Guidelines
Helmet Size
XXS
XS
S
M
L
XL
XXL
CM
-
53~54cm
55~56cm
57~58cm
59~60cm
61~62cm
63~64cm
Philippines(X-Fifteen)
Other Areas(All products excl. X-Fourteen)
Sizing Guidelines
Helmet Size
XXS
XS
S
M
L
XL
XXL
CM
51cm
53cm
55cm
57cm
59cm
61cm
63cm
Main Characteristics
QSV-1 Sun Visor
Always same riding under any sunlight
QSV-1, inner sun visor injection molded and made of polycarbonate, may open and close and is adopted to SHOEI full-face helmet for the first time. This sun visor with minimum distortion has such a high performance as conforming to EN1836, European standard for sunglasses. To avoid a sudden unexpected closing of the sun visor, handling lever is held at the housing location of the sun visor.
A rider encounters various circumstances such as a tunnel, glaring sunlight in summer, afternoon sun in winter and nighttime. A sun visor which opens and closes corresponds to such varying circumstances instantly.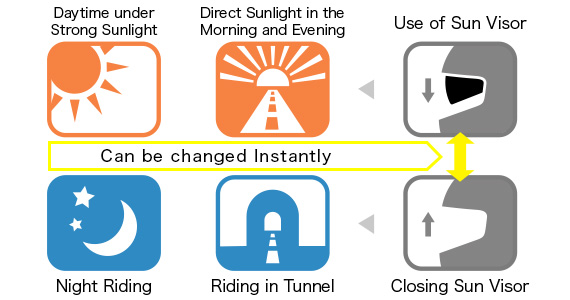 Use of Sun Visor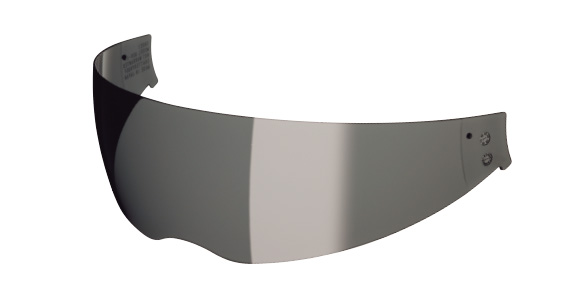 QSV-1 Sun Visor
QSV-1 Sun Visor has such a high optical preformance as sunglasses conforming to EN1836, European standard.
Quietness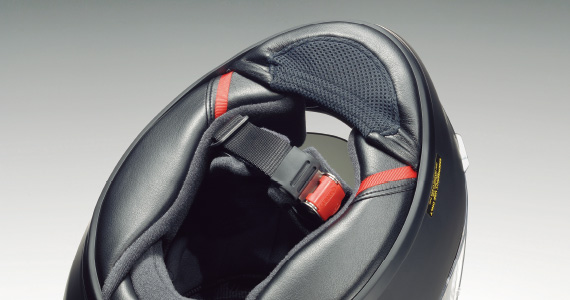 Standardized chin curtain restrains roll-in of wind effectively. Mesh type is also available as an option.
Uncomfortable noise is not created and blocked to invade inside
Quietness is assured by repeated experiments in in-house wind tunnel facility. In order to restrain fatigue caused especially by noise in a long time riding, attention was paid to all of such factors as a shell in superior aerodynamics, interiors fitting to a head properly without unnecessary gap, ventilation which doesn't create noise, etc. And also, enclosed chin curtain blocks a wind for further quietness.
CNS-1 Shield
To deliver the scenery to a rider as is
CNS-1 shield with minimum distortion is injection molded and contacts closely and firmly to a helmet by 2 step actions of "Down" & "Press". Window beading in double lip structure blocks invasion of uncomfortable wind or rainwater. Very favored easiness of fixing and removing is, of course, maintained. No tool is necessary at all. Fixing and removing of a shield can be made easily by one touch. You can clean dirt during tour with no stress.

Variable Axis Double Action Mechanism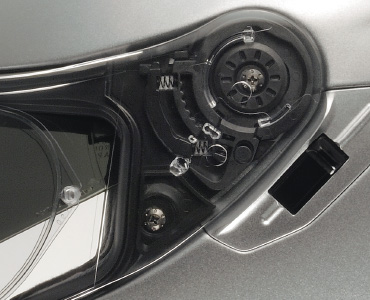 QR-N System
PINLOCK® EVO lens
A helmet must support a rider even in a bad weather
PINLOCK® fog-free system is standardized to secure a good vision restraining fogging of a shield under bad weather like rain or low temperature. An air chamber between a shield and anti-fog sheet avoids fogging together with moisture absorption nature of the sheet itself. The sheet larger than its predecessor covers up to top end of a shield and is used for CW-1 which is equipped to X-TWELVE, SHOEI's flagship racing model, also. A sheet which can be easily fixed and removed is easy in maintenance also same as a shield.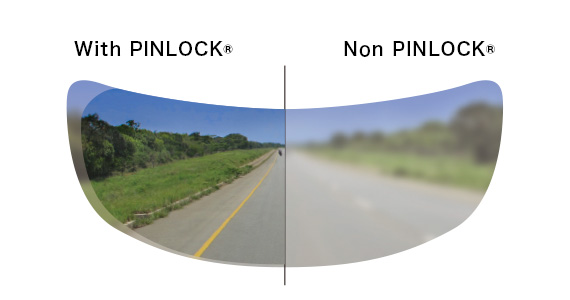 Vision of PINLOCK® fog-free sheet for CNS-1 Shield
Anti-fog sheet covers large area of a shield.
*The photo is illustrative purpose only.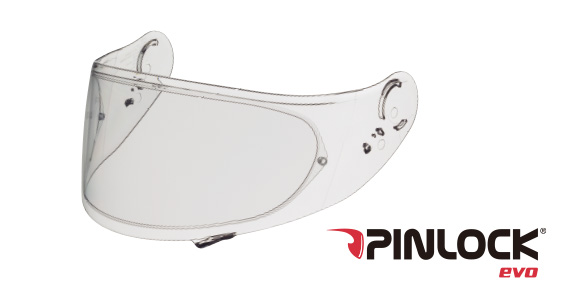 CNS-1 PINLOCK® shield + PINLOCK® fog-free sheet
Micro Ratchet Type Chinstrap
Compatibility of Firm Safety and Easy Handling
A chinstrap is also an important component for safety. GT-Air is equipped with micro ratchet type chinstrap buckle whose main parts are made of high quality stainless steel to secure firm strength. Fixing and removing can be made easily even by gloved hand. And fine tuning is also easy.
Claws hang on latch in 2 points to hold firmly. A buckle can be released only when release lever is pulled to a certain extent to avoid an unintentional release. These are realized by SHOEI's ideas for safety.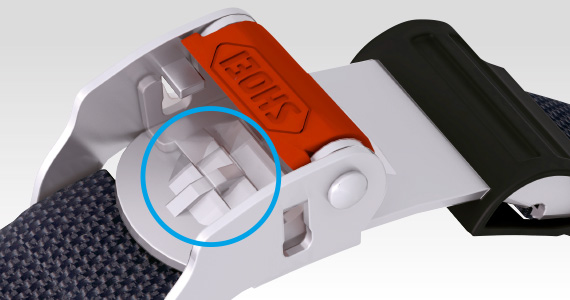 2 claws hang on latch.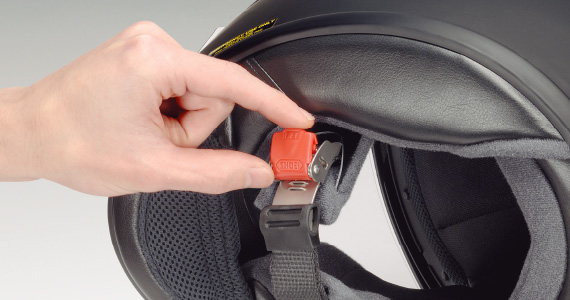 A buckle may not be released unless release lever is pulled to a certain extent.
Ventilation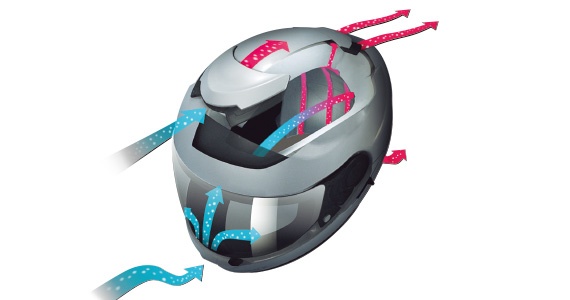 Comprehensive control of an air stream realized effective ventilation.
A wind may be felt firmly even inside a helmet
Ventilation can be opened and closed easily by gloved hand by moving large shutter cover. A large front ventilation absorbs an air effectively and, at the same time, exhausts a hot air around a shield. Rear outlet is designed considering riding positions and angles also. It is independent from a spoiler purely for ventilation effect.
3D Full Support Inner IV + E.Q.R.S.
Comfortable feeling for long journey
Inner is assembled various hardness polyurethanes. This 3-D inner give you comfortable and firmly fitting. Surface of fabric consists of highly performance moisture absorption, quick drying and raised fiber with comfortable texture.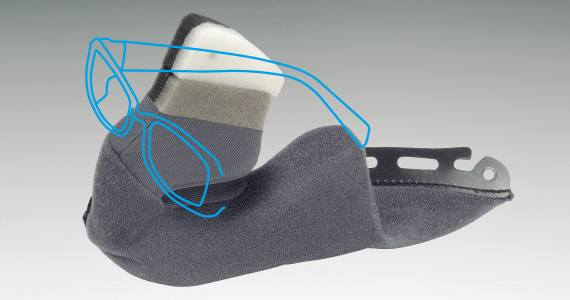 Soft polyurethane foam adopted to an area for temples of glasses eliminated unnecessary gap and improved comfortable wearing.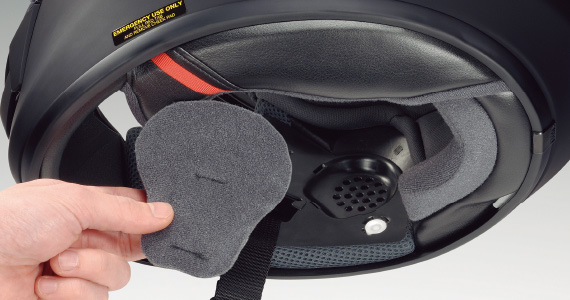 An ear pad can be removed. A space around an ear may be adjusted.
E.Q.R.S. (Emergency Quick Release System)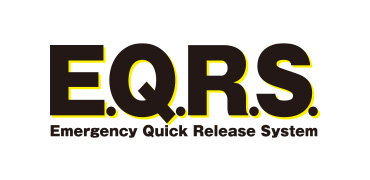 In the event that the rider needs medical assistance, this system allows another person to quickly provide medical help. Although prompt action is required when offering medical assistance to the rider, the rider's helmet must be removed with great care. The E.Q.R.S. provides a special ribbon on the cheek pads that can be pulled during a medical emergency to easily detach the cheek pads from the helmet. By pulling off the cheek pad that holds the rider's cheek in place, the helmet can be removed from the rider's head with ease.
*When removing cheek pads for a usual maintenance, do not use E.Q.R.S. tabs.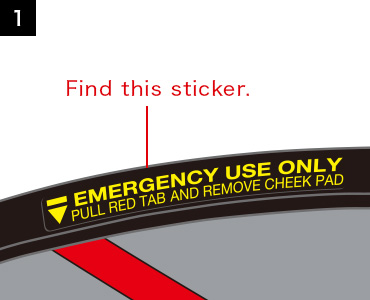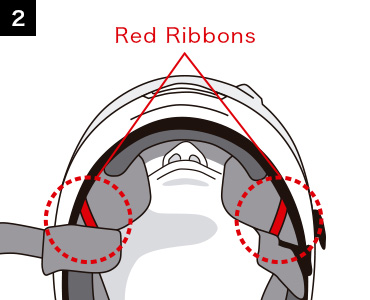 Pulling the red ribbon at the end of the cheek pad with your finger allows the cheek pad to be removed.